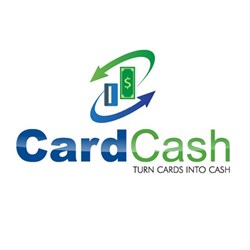 "Instead of going to the store and buying items you don't want or purchasing food you don't like just to use the gift card, sell your gift card to CardCash.com and use the money you receive for something you actually want."
Brick, NJ (PRWEB) December 26, 2013
CardCash.com, the web's leading secondary gift card marketplace, announced today the start of "Cash Out Awareness Month," where they encourage users to trade in their unwanted gift cards and receive as much as 97% of the card's face value in return.
Over the next month CardCash.com expects millions of Americans to turn their holiday unwanted gift cards into cash, to use on what people actually want for the holidays.
"80% of Americans received at least one gift card for the holidays this season and it's rare for someone to be happy with all the gift cards they received," says Elliot Bohm, CEO and co-founder of CardCash.com. "Instead of going to the store and buying items you don't want or purchasing food you don't like just to use the gift card, sell your gift card to CardCash.com and use the money you receive for something you actually want."
While retailers are trying to discourage holiday returns with tougher policies, CardCash.com actually encourages consumers to "return" their gift cards by selling them, and cashing out for something they actually want. In the spirit of "Cash Out Awareness Month" CardCash.com is offering higher payouts on many of the most commonly returned gift cards from now through the end of January.
CardCash.com's secure gift card marketplace allows the website to purchase gift cards from over 700 merchants across the country, from large retailers such as Target, Home Depot and Walmart, to smaller, regional retailers. Unlike other listing sites, CardCash.com actually buys the card from the consumer, offering the quickest payouts in the industry. Once CardCash.com accepts the cards they offer four different methods of payment: Amazon gift card (which comes with a 5% bonus), PayPal, ACH deposit or check.
Annual gift card sales will exceed $110 billion annually in the United States, according to a recent survey from the CEB Tower Group. As that number continues to grow, nearly 10% of those cards go unspent every year. To help access that locked-up capital, CardCash.com provides a simple and secure online exchange that allows consumers to convert these unused cards into cash.
About CardCash.com
Headquartered in Brick, NJ and backed by Guggenheim Patners, CardCash.com presently offers the largest selection of discounted gift cards online and has the highest standards of security implemented to help streamline the sales and purchases of gift cards on the secondary market.
CardCash.com was ranked by Forbes as #85 on America's 100 Most Promising Companies for 2013, and by Inc Magazine two years running, in both 2012 and 2013, on the Inc. 500's list of fastest growing private companies in America.