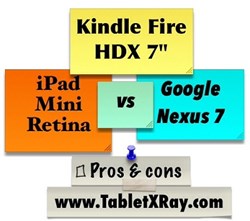 A balanced comparison should also compare the prices and availability of apps, music, eBooks, and videos on the iTunes store, Amazon digital store and Google Play Store.
Chicago, IL (PRWEB) December 25, 2013
The Apple iPad, Amazon Kindle Fire HDX and Google Nexus 7 are three of the most popular tablet computers in the USA. These are also some of the most shopped gadgets during the holiday season and some of the most gifted items on Christmas. One of the biggest challenges potential buyers face is deciding which tablet suits them the best. The Amazon Kindle Fire HDX vs iPad Mini vs Nexus 7 comparison on Tablet XRay simplifies this task by comparing the different hardware and software specs in a unique manner.
Not all specs are equally important.
This comparison divides the various hardware and software specs into 2 categories as more important specs and less important specs. They emphasize that even though there are dozens of features that are comparable between the 3 tablets, that only a few are important when making a purchasing decision. In their Minor spec comparison, they emphasize that features like front and rear camera specs, dimensions (weight, thickness, length and width), storage capacity, ports and connections (e.g. wireless charging, NFC; near field communication, HDMI ports), and battery life are less important than certain other features. For example, the 7" Kindle Fire HDX boasts a battery life of 11 hours with mixed use and 17 hours when used only for reading. In contrast, the iPad Mini with Retina Display and Nexus 7 have 10 hours and 9 hours of battery life with mixed use. When camera specs are considered, the 8.9" Kindle Fire HDX has an 8MP rear camera while both the iPad Air and Google Nexus tablets have 5MP rear cameras. The authors argue that one should not base their buying decision on such features.
The 5 Most Decisive Specs in a Tablet Comparison Described.
According to http://TabletXRay.com/Kindle-Fire-HDX-vs-New-Apple-iPad-vs-Google-Nexus-Spec-Comparison/, the price, display quality, processor and RAM, content eco-systems and operating systems are the 5 most decisive specs. The 7" Kindle Fire HDX is $170 - $320 cheaper than the iPad Mini depending on the configurations one chooses. The low price tag of the Kindle tablet can be a deal breaker for the iPad Mini because one could buy additional items or even an extra tablet with the savings. The processor/CPU and RAM are also crucial because smooth, fluid-like operation is dependent on these hardware specs. Both the Amazon and Google tablets have Qualcomm Snapdragon quad-core processors while the iPad Mini and iPad Air have dual-core processors. This iPad vs Kindle Fire HDX vs Nexus comparison is a highly recommended read for anyone considering buying an Apple or Android tablet in 2014.
In addition to comparing the smaller tablets, they also review the 8.9 inch Amazon Kindle Fire HDX and compare its hardware and software specs to those of the iPad Air and Nexus 10.