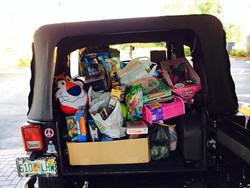 for these alumni members, helping children at Christmastime allows them to realize the blessings they have themselves, and keeping focused on helping others also makes it less likely that they will relapse during this challenging time of the year
Deerfield Beach, FL (PRWEB) December 25, 2013
Needy children in the Deerfield Beach, Florida area will have a brighter Christmas this year thanks to a partnership between Florida House Experience and Parkway United Methodist Church. Members of these two organizations recently held a toy drive to benefit those less fortunate during the Christmas season. The toy drive was an overwhelming success, with more than 300 toys collected during the program.
Florida House Experience staff members and alumni took time out of their busy schedules to collect toys, sort them according to need, and then load them up for delivery to needy families. The toys were all brand new, and were delivered to volunteers unwrapped so that they could be easily sorted. Toys for boys and girls of all ages were donated to the organization.
Alumni of the Florida House Experience were especially excited to be taking part in the toy drive, as many of them believe that giving back to others goes a long way toward their own healing. Florida House Volunteer Coordinator Meg McKenna remarked that "for these alumni members, helping children at Christmastime allows them to realize the blessings they have themselves, and keeping focused on helping others also makes it less likely that they will relapse during this challenging time of the year."
This is the first such toy drive undertaken by the Florida House Experience, but judging by its success, it's likely that others will follow next year. There's no doubt that the Christmas season will be made brighter for a number of Florida children this year thanks to their heartfelt efforts.
About the Company:
Florida House Experience is located on three acres of land that is only one mile from the Atlantic Ocean in Deerfield Beach, Florida. The center operates 24 hours a day, seven days a week, and is even open on Christmas Day to help those who are suffering from addiction get their lives back on track. Most major insurance plans are accepted as well. Those who would like more information about the addiction treatment plans offered can contact the center at 866-421-6242.