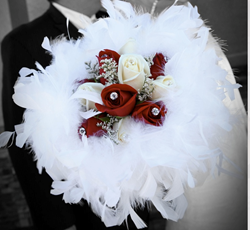 Las Vegas, NV (PRWEB) December 26, 2013
December 26th, 2013 –Congratulations! You've found the guy and now the bauble is undoubtedly resting at its new home on your left hand. An engagement is always guaranteed to be memorable, but a Christmas engagement makes it all the more special. Here are the 7 best reasons why getting engaged at Christmas is the ultimate time to do so:
1. It's the holidays! No doubt close family and friends are already gathered near, so you have not only a captive, caring audience, but you save yourself some coin on postage because you won't have to send out announcements!
2. You've just locked in the perfect time schedule. With summer being the most popular time to get married, you've given yourself a good six months to make reservations and bookings, we'll see you in June!
3. You're not alone. With a staggering 26% of all annual proposals coming in on Christmas, you're sure to have your pick of inspiration via expos, trade shows, blogs and social media as soon as the 26th.
4. The sentiment is paramount; you'll forever remember committing your life to your fiance and birthing a new part of your life on the very day that a rather remarkable little baby was born in a manager some 2,000 years ago. No way you'll ever forget such a special moment in your life.
5. You're on holiday! What better a time to get engaged than when you can indulge your desire to start planning before the "Congratulations" are even done being said. Without the distraction of going to your job, your new full-time work is making that dream wedding a reality.
6. It's a great time to refine your patience and start crafting "template responses". With all that family and friends around, there's sure to be a myriad of questions, and just as many opinions. Now is a good time to practice saying politely "What a lovely idea, I'll be sure to think that over" because you'll most assuredly be saying it over and over until you actually tie the knot.
7.It's like the whole world is celebrating with you! As a universally recognized holiday the excitement and anticipation you'll feel year after year on Christmas and your engagement anniversary will be magnified by the excitement during the season!
Chapel of the Flowers is a multi-award winning full service wedding venue with a talented media staff, creative floral team, and unsurpassed customer service professionals -- which is why in the afterglow of confessions of love and a proposal of marriage, we're the ones to turn to.
More than anything we know how precious that moment was when you screamed "Yes!" and we want you to stay in that mindset of excitement and eager expectation. That's why we're offering a wonderful incentive to book now! For all bookings made December 26th through December 31st you and your fiance will receive a free "First Look" add on, simply use the code EVEFIRSTLOOK to redeem.
Maintain that excitement and anticipation that you felt when you said "Yes" on the day of the actual wedding by having the element of surprise with the First Look service. Forever remember the look on the Groom's face as he sees his Bride for the first time as she walks down the aisle.
Contact one of our Wedding planners today, or visit us online at http://www.littlechapel.com.
About Chapel of the Flowers
Chapel of the Flowers has provided traditional, intimate and elegant Las Vegas weddings on the world-famous Strip for nearly 60 years. It is a full-service wedding venue, with three elegant wedding chapels as well as a beautiful outdoor gazebo and glass garden. Its cobblestone-accented grounds and lush landscaping create a variety of options to capture that picture-perfect moment. The chapel's professional wedding planners work with couples on a daily basis from one-year out to day-of planning.
On-site, Chapel of the Flowers provides fully-equipped white limousines; videography where a couple goes home with their ceremony DVD that same night; world-class photography where couples can pick up their photos and view slideshows in its photo gallery the following day; and a full-service florist, making fresh, custom bouquets and flower arrangements on a daily basis. Additionally, the Las Vegas wedding chapel offers live Internet viewing to cater to the destination bride.
Chapel of the Flowers has won numerous awards; for 2013 these include: TheKnot.com "Best of Weddings" (2012, 2013) and WeddingWire.com "Bride's Choice Awards" for "Best Wedding Venue: Las Vegas;" as well as the Las Vegas Review-Journal's Readers Pick for "Best Wedding Chapel; " and "Best Wedding Chapel" and "Best Website" by the Las Vegas Wedding Awards and Beautiful Bride Magazine. For more information, please visit http://www.littlechapel.com.