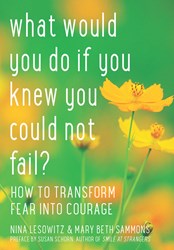 (PRWEB) December 26, 2013
Make the most of your New Year's resolution by letting go of fear and embracing personal power. In What Would You Do If You Knew You Could Not Fail?: How to Transform Fear into Courage, co-authors Nina Lesowitz and Mary Beth Sammons of the bestselling Living Life as a Thank You present stories of bravery and determination to teach us that courage comes from taking action before we are forced to do so, along with ways to get in touch with our inner power.
Enhanced with motivational stories, expert advice, and hands-on exercises, this courage guidebook will help you turn apprehension into action to reap the many benefits of living your life with confidence. Stories from world-class athletes, spiritual teachers, and cancer patients teach us how to transform our lives. Through these first-hand accounts, Nina Lesowitz and Mary Beth Sammons demonstrate that how we face up to hardship shapes not only our destiny but our identity.
What you'll learn from What Would You Do If You Knew You Could Not Fail?

Rituals for facing and transforming your fears
How facing a crisis can inspire immense personal growth
Inspiring stories of resilience and courage
How to develop the right mindset to deal with life's obstacles
Tips for putting your passions out there
Simple, effective and proven methods for confidence and courage
About the Authors:
Nina Lesowitz is an award-winning marketing professional who runs Spinergy Group, which represents authors, corporate clients, and nonprofits. She, along with Sammons, coauthored the best-selling Living Life as a Thank You and Living Life as a Thank You: My Journal. She lives in Northern California with her husband and two daughters, and she does volunteer work for local literary organizations and schools.
Mary Beth Sammons, a 20-year veteran reporter, specializes in community journalism and her work has appeared in the Chicago Tribune and Crain's Chicago Business. At the national level, Sammons regularly appears in AOL Health, Family Circle, and Beliefnet.com. She has written 10 books about wellness, health, ordinary people doing extraordinary things, and other lifestyle issues, including: Second Acts That Change Lives: Making a Difference in the World and We Carry Each Other: Getting Through Life's Toughest Times. She lives with her three children and she still finds the time to train and compete in triathlons and half-marathons.