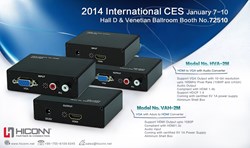 (PRWEB) December 26, 2013
Recently, Hiconn Electronics, the long-lasting supplier of high end electronic products, has announced that some of its staffs are going to attend the 2014 international CES. Now, they are busy preparing for the big show.
According to the CEO of the company, the International CES is also known as the Consumer Electronics Show (CES). It is indeed an electronics and technology trade show that attracts many major companies and industry professionals worldwide. Usually, the show is held each January at the Las Vegas Convention Center in Las Vegas, Nevada, United States. This show typically hosts new product announcements and previews of products. It is now very prominent.
What's more, the company is going to show hundreds of new items at the show, including HDMI to VGA with Audio Converters and VGA with Audio HDMI Converters. Here is some detailed description of the company's latest version of HDMI to VGA with Audio Converters:
*Support VGA output with 10-bit resolution up to 165Mhz pixel rate (1080p and UXGA)
*Audio output
*Compliant with HDMI 1.4b
*Support HDCP 1.4
*Aliminum Shell Box
*Coming with certified 5V 1Apower supply
"We are very happy to attend the 2014 International CES. Our company offers a huge selection of high quality devices that is useful in many fields. We are eager to show what we create to worldwide people," the CEO says excitedly.
About Hiconn Electronics
Hiconn Electronics (Shenzhen Hiconn Electronics Co. Ltd.) is devoted to designing and manufacturing a wide range of connection cables and customized cable assemblies, offering many HDMI cables, VGA cables, SATA cables, USB cables, 1394 cables, DVI cables, SCSI (Small Computer System Interface) and more. For more information, please visit http://www.hiconn.net/.
Contact Person: James Yin (Sales Director)
Company Name: Shenzhen Hiconn Electronics Co., Ltd.
Address: Shenghua Building., Xixiang Road., Baoan District, Shenzhen, Guangdong Province, China
Zip Code: 518102
Tel: +86-755-8109 8345
Fax:+86-755-2779 3497