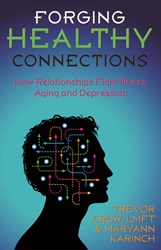 (PRWEB) December 27, 2013
In Forging Healthy Connections, authors Trevor Crow, LMFT and Maryann Karinch present scientific evidence of how positive relationships boost the immune system. Out of their work, Crow has created five, simple New Year's Resolutions for anyone who wants proof that human connections promote health.
Crow says, "The most important resolutions you can make this year for your relationships and ultimately for your health are these
1. Practice radical empathy: Listen with an open heart and non defensive stance
2. Move toward attunement: Be curious and really feel your partner's experience. Reach for her or him emotionally.
3. Take your emotional pulse: Be honest about your feelings. For example, is anger or anxiety covering up hurt? Shame?
4. Be responsible for your own behaviors: Know that you can shift; your change for the good will have a ripple effect.
5. Be kind, be fair and be wise. That's self explanatory!"
Forging Healthy Connections is a powerful resource for combating the loss of personal bonds in today's impersonal digital age. It provides readers with the tools needed to achieve and maintain healthy personal connections that will ultimately lead to a lifetime of satisfaction, fulfillment and meaningful relationships.
Trevor Crow, LMFT, hosts "Keeping Connected," a weekly radio show about relationships, and is a licensed marriage and family therapist. Crow has a Masters in Marriage and Family Therapy from Fairfield University, Connecticut and also holds an MBA from Harvard University and a BS from Parsons the New School of Design. She practices and resides in Southport, Connecticut.
Maryann Karinch is the author of 19 books, most of which focus on human behavior, and is the founder of The Rudy Agency, a literary agency specializing in non-fiction. She holds bachelors and masters degrees from The Catholic University of America in Washington, DC and is a certified personal trainer. She lives in Estes Park, Colorado.
Title: Forging Healthy Connections
Authors: Trevor Crow, LMFT and Maryann Karinch
Nonfiction, 5 1/2 x 8 1/2, 240 pages
Self-help/Relationships
LC# 2013931894, world rights
ISBN-13: 978-0-88282-452-9 (pb), $14.95
ISBN-13: 978-0-88282-453-6 (eBook), $14.95