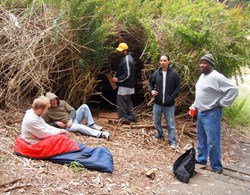 The most critical issue of our times which needs to be fixed is inequality and the wealth gap between rich and poor.
San Francisco, CA (PRWEB) December 26, 2013
Today, as the wealth gap between rich and poor widens, over 50 million individuals have sunk into poverty, despite claims of an economic recovery. And that's exactly what a new film about to go into production, Suicide Party addresses. The film script has triggered so much interest, that three directors in three U.S. cities – New York, Los Angeles, and San Francisco – will be creating different visions, much like many film with trilogies and sequels, such as Lord of the Rings and Fast and Furious. And investors all over the country – from Arkansas to Texas to San Francisco – have been contributing to fund these low budget projects with budgets under $50,000 each and distribution arrangements to be announced shortly.
While the film centers around the results of a suicide party thrown by a once successful but now desperate salesmen, it is designed to evoke a national conversation about what to do to reduce inequality and the loss of homes by middle class individuals and families. In fact, the film's writer and producer plans a series of workshops and other events to deal with the issues raised by the film, and besides funding the film series primarily by investors, a crowdfunding campaign has also been launched to draw attention to the project. It's on GoFundMe, a fundraising sites that's an ideal platform for supporting causes and community building.
The first of the Suicide Party films called The Suicide Party: Project O is being directed in Los Angeles in late February 2014 by Jack Skyyler of Dear Skyyler Productions based in New York, with the well known actors Glynn Praesel of Texas and Tom Malloy of Los Angeles. Together they have made over 30 feature films. The film will feature the same found footage approach of many popular films with low budgets, such as Paranormal Activity, and it is expected to be released in July.
The Suicide Party film website is at http://www.suicidepartyfilm.com and the GoFundMe campaign is at http://www.gofundme.com/5r42es.
The organizer of this campaign and the writer/producer of Suicide Party is Gini Graham Scott, the founder of Changemakers Publishing and Writing. She is the author of over 50 published books with major companies and 30 books published by Changemakers Publishing, her own publishing company. She also writes books and scripts for clients. She has spoken about the topics of her books to many groups and the media, including appearances on Good Morning America, Oprah, and CNN. She has a PhD in Sociology from U.C. Berkeley, a JD from USF Law School, and 4 MAs in Anthropology, Mass Communications, and other subjects at Cal State, East Bay. She is pursuing a fifth MA there in Communications.