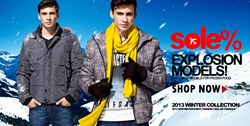 (PRWEB) December 28, 2013
Recently, Skmen.com, a renowned clothing manufacturer and retailer in China, has announced its new assortment of peacoats for men. There are more than 600 peacoats in this range, and now all of them are offered at discounted rates, up to 34% off.
The company provides many kinds of high quality clothes. It is always working hard. According to the CEO of the company, the price reduction offered this time is huge.
The CEO states, "We are glad to launch the special offer. In this special offer, the price is much lower than the listed rates at retail stores. This time, we want to show our appreciation to clients throughout the world. In the coming 2014, we will continue to put forth our best effort to make wonderful products."
"We specially design these high quality peacoats for worldly gentlemen. We guarantee that every item in the new collection is unique. Our peacoats are warm and handsome. What's more, the online staff are always available to answer questions," he adds.
About Skmen.com
Skmen.com, a China-based company founded in 2009, is one of the leading suppliers of men and women's high quality clothes. It has more than 5000 customers from every part of the world. We aim to help people develop self-esteem, confidence and a love of learning. For more detailed information about Skmen.com and its various kinds of clothes, visit http://www.skmen.com/product-men-s-peacoats-009003005.aspx.