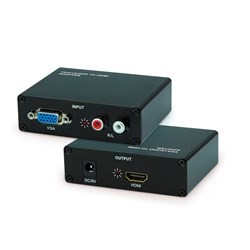 (PRWEB) December 28, 2013
Hiconn Electronics is one of the world's leading companies of high quality electronic products. Recently, the company has released its new range of VGA+R/L Audio to HDMI Adapters. Additionally, the company has launched a special offer on these items. They are now offered at greatly discounted prices, up to 29% off.
The new adapters now can be easily ordered at the company's website. Hiconn Electronics is known for its practical and affordable high end devices. The new collection is very huge; it has over 1000 items in it.
Some detailed information about VGA+R/L Audio to HDMI Adapters from Hiconn Electronics is as follows:

Model NO.: VAH-1P
Application: Multimedia, DVD Player
Color: Black
Type: Coaxial
Certification: RoHS, CE, ISO9001, UL
Connector: HDMI
Export Markets: Global
Compliant with HDMI 1.3.
*Video input resolutions: 640 x [email protected], 720 x [email protected], 1280 x [email protected]/60Hz, 1920 x [email protected]/60Hz, 800 x [email protected], 1024 x [email protected]
*Audio input stereo 3.5mm
As an outstanding online supplier of electronic products, Hiconn Electronics provides worldwide consumers with a full range of practical devices. More importantly, all its items are made from top-quality materials. The aim of the company is to help worldwide clients get their dream devices without having to spend too much.
About Hiconn Electronics
Hiconn Electronics (Shenzhen Hiconn Electronics Co. Ltd.) is devoted to designing and manufacturing a wide range of connection cables and customized cable assemblies, offering many HDMI cables, VGA cables, SATA cables, USB cables, 1394 cables, DVI cables, SCSI (Small Computer System Interface) and more. For more information, please visit http://www.hiconn.net/.
Contact Person: James Yin (Sales Director)
Company Name: Shenzhen Hiconn Electronics Co., Ltd.
Address: Shenghua Building., Xixiang Road., Baoan District, Shenzhen, Guangdong Province, China
Zip Code: 518102
Tel: +86-755-8109 8345
Fax:+86-755-2779 3497