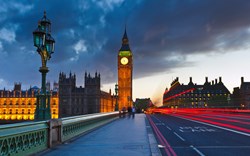 If you are bored of London, you are bored of Life.
(PRWEB UK) 27 December 2013
London is one of those cities you could spend a lifetime exploring and still never quite complete. As they say, "If you are bored of London, you are bored of Life" – very true! Fortunately, much of this beautiful city's iconic landmarks and culture is available for free viewing. You just need to know where to go.
1. The Changing of the Guards: Millions come to see this free attractions at the Buckingham Palace. So yes, there will be a crowd, no matter when you go. Whether you're part of a walking tour or one of those squished by tourists against the fence, make sure you get there early to get a good vantage point. About an hour should do.
2. London Gardens: There are acres and acres of beautiful gardens just waiting to be strolled. Usually maintained by volunteers, the Gardens are beautifully landscaped and offer a wide variety of styles to marvel at. Our top picks include Kyoto Japanese Gardens in Holland Park, the Charlton House Gardens and the Fulham Palace Grounds.
3. Walk Along South Bank: This alone could keep you occupied for an entire day. Walk from Lambeth Bridge to Blackfriars Bridge. Street art, skate parks, Shakespeare's Globe, random performers, an impressive skyline, an old carousel, the London eye… this is a place to be savored slowly.
4. Trafalgar Square: Often called the heart of London, the square was once known as Charing Cross. It's a beautiful hangout, surrounded by impressive architecture, dominated by Nelson's Column and scattered by sculptures. This is yet another place to catch some awe-inspiring street performers. Wrap something to munch on and spend a good couple of hours here.
5. Tower Bridge: Possibly the most famous bridge in the developed world, this imperious structure awed people even as it was being constructed. Stick around for a while and you might get lucky enough to see the bridge being drawn up to let ships pass through.
6. Speaker's Corner: The right to opinion is celebrated every day at Hyde Park. Once upon a time, Karl Marx himself spoke here, as did George Orwell. Though contemporary orators are less worthy, it's nevertheless nice to watch the speakers frequently break the bounds of political correctness. Profanity and violence inducing content is not allowed however. Just keep that in mind if your opinions start to well up.
7. London Museums: Most of the major museums in London are free. Our favorite is Tate Modern, possibly the most unusual of all modern art museums. The permanent exhibits are free and you can wander from one to another completely slack-jawed as you cross the immense spaces. Art can take pretty much any form here, so keep an open mind. Get lost in the paintings, sculptures and a lot of other fringe work.
8. Street Markets: Lively, unique and popular, London street markets easily draw tens of thousands of visitors in the weekend. Yes, it's always crowded, but that crowd is part of the charm. Take the Camden Street Market, a hot-spot of unusual and cheap craft items, funky fashion and street food. The Greenwich Market on the other hand is London's source of quirky collectibles. The Portobello Market in turn offers antiques and freshly grown food, and also a decent flea market. These places usually close by six in the evening.
9. The Prime Meridian: How fun would it be to be able to say for the rest of your life that you stood on Longitude 0° 0' 0"? That's right here, at the Royal Observatory, where, if you stand over a particular metal line, you'll be standing on both the Eastern and Western Hemispheres of the World Map. This is a really good spot for a 'selfie'.
10. The Covent Garden Music & Market: Colourful, musical, lively and enchanting, this is one of the most fun places to be in London. The shopping here is out of the world, even if it's only the window-shopping variety. Soak up the atmosphere and let the delicious smells from every corner waft over you. Make sure to visit in the evening, for that's when the street performers truly come alive. The whole place just feels ridiculously happy and warm.