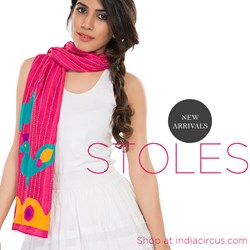 (PRWEB) December 26, 2013
This winter, IndiaCircus, the lifestyle, fashion and home decor label, headed by the brilliant Krsna Mehta reveals its latest collection of stoles, shawls and Jackets. With the chill setting in, these products are perfect to add that style and comfort for the season.
The latest stoles are bright and colourful. With pretty patterns ranging from flowers and peacocks, these stoles are a perfect fashion accessory. The stoles are made out of chanderi fabric and have an elegant appeal to them.
The new range of cashmere shawls, are the perfect way to beat the winter chill. With rich colours ranging from deep blue to bright red, these shawls are sophisticated and fashionable. These stoles make for a fashionable look during otherwise dreary winter days.
Also in the collection are a new range of smart Jackets. With unique colours and style, these pieces are understated but very refined. With its attention to detail these jackets combine both fashion and function seamlessly.
IndiaCircus is a design house which believes in attention to detail. Each thing that we design has to be something unique and precious. It is this design ideology that makes every product of India Circus a true pride and pleasure to own. For more details log onto in indiacircus.com