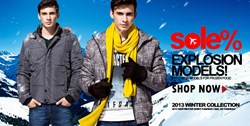 (PRWEB) December 29, 2013
Recently, Skmen.com, a popular clothing company in the international market, has announced its new selection of men's trench coats. What's more, the company has launched a special offer on these high quality coats. Now, all of them are provided at discounted prices, up to 41% off.
According to the CEO of the company, the special offer is launched to show appreciation to clients throughout the world. The promotion is valid for a limited time only, until January 25, 2014.
Skmen.com has become a distinguished clothing manufacturer and retailer in the world. It is famous for its various kinds of high quality clothes at affordable prices, including men's trench coats, sexy club wear, wedding dresses, Chinese traditional clothes and so on. Its mission is to create top quality items that can enhance the natural charm of the wearers. With years of experience, the company can always implement new ways to better serve worldwide clients.
Furthermore, the company hopes to make its website a one stop platform for consumers from around the world. Its website has been updated and simplified; the purchase process is now safe and easy. Thus, it is now very convenient for customers to order what they like at the company's website.
About Skmen.com
Skmen.com, a China-based company founded in 2009, is one of the leading suppliers of men's and women's high quality clothes. It has more than 5000 customers from every part of the world, helping the people develop self-esteem, confidence and love of learning. For more detailed information about Skmen.com and its various kinds of clothes, readers can visit http://www.skmen.com/product-men-s-trench-coats-009003004.aspx.