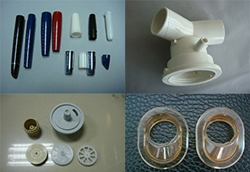 (PRWEB) December 27, 2013
Recently, Wuxi Glory Plastics, a reliable China plastic cap and closure mold maker, has unveiled its latest collection of plastic caps. All these new products are now available at discounted rates, up to 32% off. According to the CEO of the company, the special offer is launched to show its thanks to worldwide consumers.
"We are excited to launch the special offer. Driven by the trust and support of customers from around the world, we made the decision to create the new range, though it is now the end of 2013. You know, at the moment, we still get plenty of orders at our online shop." The CEO says gladly, "This time we want to bring real benefits for all old and new clients. Thank you very much. We will keep trying in the coming new year."
There is no denying that Wuxi Glory Plastics is a fast-growing company in the plastics industry. Its officials concern about all aspects of blow molding: mechanical equipment, auxiliary equipment, tooling, polymer properties, processing, fabricated part testing and so on. All its products are available in various color options and specifications.
Also, any customer is welcome to buy the company's products online; the company always strives to provide everyone with premium customer service and fast delivery.
About Wuxi Glory Plastics
Wuxi Glory Plastics specializes in developing and manufacturing of custom molded plastic product by taking advantages of the relatively low labor costs in China. It has most experienced workers in China. If you're looking for product design, engineering, prototyping, and mass production, Glory plastics can always find a solution for you. For more about our products and services, please visit: http://www.plastics-molding.com.