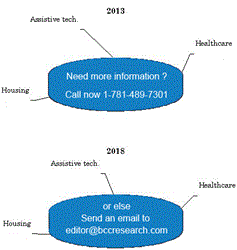 U.S. elder care market to grow to $436.6 billion by 2018.
Wellesley, Mass. (PRWEB) December 26, 2013
According to a new technical market research report, The Elder Care Market: Products and Services, from BCC Research (http://www.bccresearch.com), the U.S. elder care market was valued at $286.7 billion in 2012 and is expected to increase to nearly $320 billion in 2013. BCC Research projects the market to grow to $436.6 billion by 2018, and register a five-year compound annual growth rate of 6.4% from 2013 to 2018.
The world population of individuals 65 and older is growing at an unprecedented pace, driven by better healthcare, nutrition and a dramatic decrease in infectious disease exposure. Life expectancy at the global level rose from 47 years between 1950 and 1955 to 65 years between 2000 and 2005, and is expected to reach 75 years between 2045 and 2050. Increasing longevity brings with it a variety of opportunities for elders to participate more fully in society; it also brings a variety of challenges. With more than 12% of the global population over 65 years old, communities increasingly face the challenge of providing appropriate healthcare, housing, and technologies that accommodate and enhance this segment's daily life.
In the U.S., the threat of overwhelming infectious diseases has continually diminished, but infectious diseases have been replaced by chronic diseases that require prescription medications, possible surgery, and rehabilitative care. Heart disease and cancer pose the greatest risks as people age, as do other chronic diseases and conditions, such as stroke, chronic lower respiratory diseases (e.g., chronic obstructive pulmonary disease [COPD]), dementia, and diabetes. Currently, more than two-thirds of all healthcare costs are for treating chronic diseases. While one-third of seniors remain active and healthy, the remaining two-thirds typically have more than one chronic illness. Seniors typically have a higher proportion of chronic illnesses than other segments of the population.
The issue of adequate and appropriate housing for seniors, as well as appropriate care giving, is a growing concern. Overwhelmingly, seniors wish to "age-in-place" in settings that are familiar. However, as the number of elderly individuals who reside within a family structure decreases and the role of extended families diminishes, perceptions in respect to inter-generational support and caring for older persons are being altered. Recent studies reveal that 20% of seniors will need long-term care for more than five years.
This report from BCC Research provides a broad background on the structure of the U.S. elder-care healthcare market and the chief issues it faces. It offers the information needed to understand the current market and to address the emerging one. Comparisons with the elder-care market in Europe, Asia and developing countries are provided. In addition, this study offers forecasts by product segment (i.e., pharmaceuticals, housing and assistive devices, and technology) from 2013 through 2018, including supporting analyses for projections.
Report segments include a demographic background of the market in the U.S. and worldwide, healthcare products and services, housing services and needs, and assistive technologies for the elder-care market. International markets are discussed and information is provided on industry structure. Profiles of leading companies involved in the elder-care pharmaceutical, housing, and assistive device industries are provided. Information on company placement within the designated market and strategic analyses of the company's available and emerging products are also provided.
This report is intended for business planners, acquisitions specialists, licensing strategists, product managers, investor consultants and others interested in the elder-care market, its products, participants, and future.