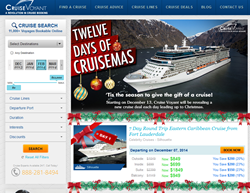 'We're encouraging consumers interested in taking a cruise during the May –August 2014 cruise season to book during the promotion period because the 3 for Free promotion is combinable with other discounts and special offers." - Justin Figeroa
Fort Lauderdale, FL (PRWEB) December 26, 2013
CruiseVoyant.com is happy to announce the success of their 12 Days of Cruisemas promotion. During each day from December 13th through December 24th, Cruise Voyant unveiled a new cruise deal. Cruise deals featured during the 12 Days of Cruisemas were as much as 80% original price were available for purchase through Christmas, although many available categories filled up quickly.
"For the holidays we wanted to give our customers something extra special to thank them for their patronage," commented Jack Field, Founder of Cruise Voyant. "We were excited to see such a great consumer response for the 12 Days of Cruisemas and plan to continue to offer consumer oriented cruise deals."
Due to the success of the 12 Days of Cruisemas promotion, Cruise Voyant has decided to offer its customers continued savings into the New Year. In conjunction with Princess Cruises, Cruise Voyant will also be offering a "3 for Free" event. Cruises booked with Cruise Voyant for select Princess Cruises until February 28th, 2014 will be eligible for three free thank you gifts. The free gifts include up to $200 in shore excursion spending money, an 8x10 framed keepsake photo and a complimentary bottle of wine.
"We're encouraging consumers interested in taking a cruise during the May –August 2014 cruise season to book during the promotion period because the 3 for Free promotion is combinable with other discounts and special offers," Justin Figeroa, Cruise Specialist at Cruise Voyant remarked. "Plus, select cruises are also eligible for a $100 reduced deposit."
For more information and terms and conditions for the 3 for free promotion, please visit http://www.cruisevoyant.com/blog/3-fun-freebies-sale.
About Cruise Voyant
Cruise Voyant is a Florida based cruise agency that is revolutionizing the cruise booking process. Cruise Voyant solves many of today's most difficult booking issues by allowing visitors to view a historic look at how pricing has changed on a particular ship and sail date. Cruise Voyant also offers interactive cruise itinerary maps, and it provides tens of thousands of photos of ships and destinations worldwide. Cruise Voyant helps consumers easily find their dream vacation by empowering them with online advice and insights that will help them easily book and manage their vacation plans.