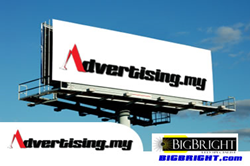 Advertising.my is the leading agency in outdoor advertising in Malaysia. They have been in the industry for more than 15 years where they have a strong brand presence as an outdoor specialist.
Petaling Jaya, Selangor (PRWEB) December 31, 2013
Advertising.my, the leading agency in Malaysia will be offering more effective and impactful solutions for the coming year. Since its inception more than 15 years ago, Advertising.my has continuously offered all types of advertising solutions and services in every type of media and has consistently provided cutting edge and value-for-money services to complement its clients marketing campaigns and other advertising related efforts.
When Advertising.my started, the main focus area was on digital and internet advertising. This has however changed tremendously as Advertising.my has moved on to become a larger and more prominent agency with a very strong brand presence in the industry. Today, Advertising.my has grown from its humble beginnings to become a full-fledge agency that offers all major types of advertising services with a very strong and significant presence in the outdoor advertising segment more particularly in billboards.
Through this effort, Advertising.my is well connected in the network of media owners in which it now offers a broad and comprehensive range in billboard advertising as it is the currently the most preferred and effective outdoor media. As a leading player in the Malaysia advertising industry, Advertising.my provides outdoor advertising services like taxi and bus advertising as well as billboard spaces in most major expressways and high traffic areas.
As part of the expansion plan for 2014, Advertising.my will be acquiring more spaces with media owners to offer more options for advertisers in major highways like MRR2 and Federal Highway. The challenge is to advocate more billboard advertising among marketers and brand owners and to dispel the perception that billboards are costly. Due to this, Advertising.my will be offering some promotions for billboard spaces in major roads and expressways which are affordable and economical for the brand owners.
Through this effort, Advertising.my has acquired more and new billboards spaces in major cities like Langkawi, Kangar, Ipoh and Melaka, all of which are located at the main roads. To ensure that the billboard ads are captured and seen by the intended audience, Advertising.my has evaluated the locations to ensure that thousands of impressions can be garnered daily.
Advertising.my has worked in outdoor advertising for many years, having carried out countless marketing campaigns and integrated advertising efforts with some of the largest and top corporations in the country. As such, the agency is well-equipped with the industry know-how and the technical knowledge on the most effective billboards and locations in Malaysia. On top of that, Advertising.my is aware of the importance of the rates and cost of advertising in this media.
Hence, the billboard rates for the new locations for 2014 are now available for review and planning. Where required, advertisers can now view all the rates of billboards which are offered by Advertising.my that include the Klang Valley in places like the Federal Highway, Lebuhraya Damansara Puchong or LDP and Bukit Bintang, MRR2, PLUS Highway, Airports, among many others.
Apart from the conventional billboards that have been in use for many years, Advertising.my is among the pioneers to use LED display advertising and digital panel on lampposts. This is a very exciting alternative for advertisers who would like to use moving images and sound in outdoor advertising as part for their campaigns. Digital panels offer richer content and more captivating messages which will leave lasting impressions with the target audience. The rates and costing for advertising in these media are available together with rates for all other major locations around the country that provide digital panels and LED technology billboards.
Advertisers who would like to leverage on the power of outdoor advertising on billboard and digital panels will be able to capture more audience and impressions through the unique approach and strategies implemented through Advertising.my which has a strong brand presence in this particular segment.
About Advertising.my
Advertising.my is the leading agency in outdoor advertising in Malaysia. They have been in the industry for more than 15 years where they have a strong brand presence as an outdoor specialist. Advertising.my have built dozens of unipoles throughout Malaysia where they have been a registered and experienced unipole contractor since 1998. Today, they are an outdoor advertising specialist where they have been given the sole and exclusive rights for the outdoor media advertising at the SkyPark Subang and Penang International Airport.