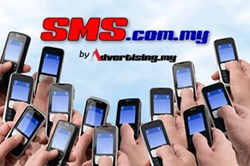 Advertising.my and SMS.com.my have been partners for many years where they have offered many types of digital branding and marketing services to clients and partners from all types of industries.
Kuala Lumpur, Malaysia (PRWEB) December 31, 2013
This is part of the ongoing expansion plan which Advertising.my will be embarking on for the year which will see the agency offering more value added services to complement its current set of offerings.
Advertising.my has been involved in all types of advertising services since it was established more than 15 years ago. Then, the main focus was on online and web advertising where Advertising.my offered a broad range of online-based advertising campaigns and services. Since then, Advertising.my has grown to become the leader in digital marketing and branding in which the agency now offers below, above and through-the-line advertising efforts.
As part of the expansion plan for 2014, Advertising.my will be launching more services in northern cities in Malaysia like Langkawi in collaboration with corporate partner SMS.com.my. This will enable both agencies to reach a broader customer base through their respective unique and original set of products and services.
Advertising.my, together with SMS.com.my will be able to offer customers and partners more value-added services that will complement and propel their businesses to a higher ground. This is made possible through the acquisition of a new gateway server which will be fully catered for major corporate clients in Langkawi island.
With a dedicated server for large and corporate clients, services will now be absolutely flawless and smooth. All types of SMS can now be sent at an instant without the need to go through many levels as they are directly handled and managed by SMS.com.my.
Through this collaboration, clients who are embarking or planning on using digital media either as a standalone effort or as part of the integrated campaign can now enjoy a wider and more accurate reach to their respective target markets.
This arrangement means that Advertising.my will be able to bring its expertise to the table, offering the best and more effective methods of reaching the target market. From the SMS.com.my's perspective, clients can enjoy a large database of intended recipients like sports results which are derived to suit the target group.
SMS.com.my offers a full and comprehensive range of SMS-based marketing tools. Through the many years of offering these services, SMS.com.my is the leader in offering all types of mobile marketing products and services like bulk SMS in Malaysia, one-way and two-way SMS, among many others. This means that clients and partners will be able to leverage on the expertise and the database of SMS.com.my in sending out messages to their customers.
With the new gateway server, production and execution cost of sending bulk SMS can be reduced. SMS.com.my has been known to offer the most value-for-money and economical SMS-based marketing tools. However, with the new server in operation, the cost will be further reduced which will then be translated to more savings for the corporate clients. In fact, the plan for SMS.com.my in 2014 is to become the cheapest bulk SMS provider in Malaysia where this effort is en route for the agency to achieve that objective.
On top of that, corporate clients can be rest assured that the recipients of the SMS that they send will reach valid and trusted recipients as SMS.com.my only engage target groups that are interested to be part of the campaign. Where necessary, SMS.com.my is ready to work closely with the clients on deriving the best and more effective method to use SMS marketing which might include obtaining records within its database.
Advertising.my and SMS.com.my have been partners for many years where they have offered many types of digital branding and marketing services to clients and partners from all types of industries. This collaboration means that 2014 will be an important year to propel both agencies higher as leaders in their respective industries and to continue offering more value-for-money and highly effective solutions to their clients. New payment gateway is being implemented so that corporate clients will be able to pay SMS packages with credit card.
About Advertising.my
Advertising.my is at the forefront of the advertising market in Malaysia. They provide all types of advertising and marketing solutions with a strong focus in digital and outdoor advertising. Today, they are the leader in mobile solutions with a complete range of products and services that are effective and impactful. In the digital market segment, they are the leader in SMS marketing having worked closely with some of the top and largest corporations in the market in highly successful campaigns and efforts.