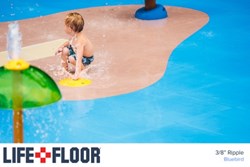 Fort Payne, Alabama (PRWEB) December 26, 2013
GameTime is pleased to announce the availability of Life Floor surfacing products through its worldwide network of dealers.
Life Floor is a slip-resistant, soft tile designed for barefoot traffic in wet areas. Life Floor can be installed indoors, outdoors, and even for underwater use. Life Floor is made from EVAtrax, a revolutionary foam-rubber formulated for durability and impact absorption. Life Floor can be manufactured in custom colors and textures, and can be installed with custom inlay designs, making it perfect for play surfaces and theming. Its application has proven successful in water parks, poolside, and many other areas within the recreation market.
The addition of Life Floor to the GameTime portfolio of surfacing products is a result of a partnership between Life Floor and GameTime's parent company, PlayCore.
"We are excited about the addition of Life Floor to our surfacing companies' suite of products as well as the opportunity to better serve our customers through this strategic partnership. This expansion of our commitment to specialized, high performing surfacing is an important new opportunity for PlayCore and supports our mission of building communities through play," noted Bob Farnsworth, President and CEO of PlayCore.
Jonathan Keller, CEO of Life Floor, added, "We are excited about partnering with PlayCore, a company with a strong track record and industry presence. In looking for a partner to expand our service to Life Floor customers with a high quality local presence, PlayCore rose to the top on the strength of their brand, mission and national presence."
To learn more about Life Floor products, visit gametime.com or call 800-235-2440 to speak with a GameTime representative in your neighborhood.
About GameTime: GameTime is a leading manufacturer of commercial playgrounds, custom play spaces and outdoor fitness equipment. Headquartered in Fort Payne, Alabama, and with distribution around the world, GameTime has been dedicated to enriching childhood through play since our founding in 1929. Our products combine play research with thoughtful design to create playgrounds for children of all abilities. We bring together the right corporate, civic and nonprofit partners to build healthy, active communities and to make the world a better place for children and families.