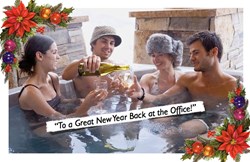 It is rare these days that the complaint involves the VP of sales giving a drunken naked presentation in a hot-tub, but a couple of drinks at the holiday party can help something be said that makes someone uncomfortable enough to make a complaint
Atlanta, GA (PRWEB) January 07, 2014
Deena Pargman, Ph.D., founder and CEO of DB Pargman Consulting LLC, offers tips to help companies respond to the post-Holiday Season Sexual Harassment Hangover and the sexual harassment complaints that roll into HR in January. After fourteen years of experience providing one-on-one and group diversity, sensitivity, and anti-harassment training, Dr. Pargman's experience suggests that after several weeks of parties, vacations, dress-up, dress-down, and gag-gift exchanges "January is when the post-Harassment Season hangover sets in."
According to Dr. Pargman, a spike in the company's consulting and training practice follows the holidays as reliably as the spike in gym membership sign-ups after the New Year, "it's just what happens after the holidays, people wake up in January and resolve to get back to the gym and lose that weight, and they resolve to not put up with the harassment and abuse they suffered last year – especially during the merriment of the holiday season."
Dr. Pargman sees two types of New Year's HR Complaints. "There are the New Year's resolutions about making changes in someone's life that includes not putting up with chronic or systemic abuse or mistreatment of the past" according to Dr. Pargman, "and there is the waking up from the buzz of the holiday party season and realizing something should not have happened at the company holiday party!" Either way – be it a response to a chronic situation, or a one-time drunken misstep – both types of complaints find their way to HR or Legal Departments this time of year.
As the nation's leading provider of Harassment Prevention and Sensitivity Training for over fourteen years, Dr. Pargman acknowledges that "a sexual or other harassment or diversity related complaint is not how a company wants to launch the New Year;" however, she highlights that "the right approach and response by the organization, can get key people back to work and an organization back to productivity before the holiday lights and trimmings are packed away."
If someone has come to you with a post-holiday-season complaint, here are three simple steps Dr. Pargman suggests will help you, the complainer, and ultimately the subject of the complaint and the company get beyond the hangover quickly:
(1) Listen. Very often the complainer just wants to be heard. Something may have happened, or maybe they just do not feel comfortable about something and they need to talk it out. Shut up and listen! A good listening session may be all that is needed.
(2) Don't Judge. When someone comes to you with a complaint, it's not People's Court time and you are not Judge Judy. You are likely hearing only one side of the story – just listen.
(3) Report. If the story suggests a violation of company policy has occurred, then report it to HR, your complaint hotline, or other structure put in place by the organization. The company should have a structure in place to respond – let it do what it is there to do.
While it certainly is a serious matter, a harassment complaint is not always a career death sentence – it just means there is concern enough from someone to look into and perhaps help someone else. After 14 years of one-on-one sensitivity training sessions with executives and other key people following their being named in a complaint, Dr. Pargman has identified a pattern. "The person about which a complaint has been filed is often not a bad guy; however, they may have made a poor choice that caused them to bump heads with the wrong person at the wrong time," and according to Dr. Pargman, "the people I see are very good at what they do and bring considerable value to the organization, so if we can help them get through this blip, then we are really helping the company be successful too."
Dr. Pargman explains "it is rare these days that the complaint involves the VP of sales giving a drunken naked presentation in a hot-tub, but a couple of drinks at the holiday party can lead to something being said that makes someone uncomfortable enough to make a complaint and when that happens, the law affords protections to companies who respond promptly and that's what we do for our clients."
The key according to Dr. Pargman is to help the company and its people get back to productive work and prevent the whispers of a complaint from growing into a full blown distracting soap opera. "It's not always as easy as taking two-aspirin and getting a good night sleep," but according to Dr. Pargman, "with a prompt remedial One-on-One Sensitivity training response to a complaint, we can help most people get over the post-holiday hangover and get them back to work."
DB Pargman Consulting LLC is the nation's leading provider of One-on-One Executive and Sensitivity Training. When a complaint occurs involving a valuable employee or executive, DB Pargman provides prompt and remedial responses for companies facing harassment and diversity sensitivity complaints. To help prevent harassment before it occurs, DB Pargman provides best in class preventative Group Anti-Harassment Training Programs. Headquartered in Atlanta, DB Pargman Consulting LLC serves a national client base of medium to large size companies, educational institutions, and government agencies.
http://www.dbpargman.com