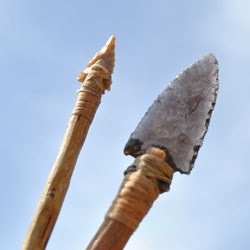 Participants will investigate key questions: When and why did bow-and-arrow technology appear? How do archaeologists study artifacts related to these technologies?
Cortez, CO (PRWEB) December 30, 2013
In the Mesa Verde region of the American Southwest, the transition from the Basketmaker II to Basketmaker III periods (circa A.D. 500) was marked by, among other things, a major technological shift—from atlatl-and-dart weaponry to the bow and arrow. Archaeology enthusiasts who are fascinated with ancient technologies now have the chance to explore the significance of this transition in a new Crow Canyon Archaeological Center Archaeology Research Seminar— From Atlatls to Bows: Prehistoric Projectile Technology.
During this week of replication and experimentation at Crow Canyon's campus in southwestern Colorado, participants will investigate key questions relating to this technological transition: When and why did bow-and-arrow technology appear? How do archaeologists study artifacts related to these technologies? What can artifact replication and experimentation teach us about the production and use of projectile weaponry in the past?
Using traditional materials and techniques, each program participant will make a Basketmaker-style atlatl and a Pueblo-style bow and arrow, test out the two weapons systems, and judge the effectiveness of each. The week includes discussions with a Pueblo scholar on cultural traditions related to projectile technology, a behind-the scenes tour of the new curation facility at Mesa Verde National Park, and evening programs on topics of current interest in ancient weapons technology and use.
Scholars for the program are Carole Graham and Paul Ermigiotti. Graham is an archaeologist at Woods Canyon Archaeological Consultants in Cortez, Colo., and a former Crow Canyon research laboratory staff member. Ermigiotti, an archaeological educator at Crow Canyon, has developed a keen understanding of ancient technology, including projectile technology, through years of replicating ancestral Pueblo material culture.
The program runs August 24–30, 2014. For more information or to sign up for the trip, e-mail programs(at)crowcanyon(dot)org; call 800.422.8975, ext. 146; or register online.
About the Crow Canyon Archaeological Center
The not-for-profit Crow Canyon Archaeological Center, located near Cortez, Colo., conducts long-term, multidisciplinary research into the ancestral Pueblo Indians of the southwestern United States and provides experiential education programs for adults, teens, and children. For nearly 30 years, Crow Canyon has also offered domestic and international culture and archaeology tours.