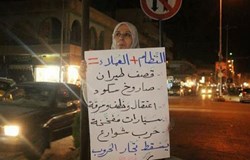 Washington, DC (PRWEB) December 26, 2013
The Syrian American Council (SAC) today condemned the extremist group the Islamic State in Iraq and Al-Sham (ISIS) for its severe human rights abuses in Syria. A new report issued by Amnesty International on Dec 19 detailed egregious human rights abuses carried out by the extremist group ISIS in Syria. Among the reported abuses are torture, flogging, and summary executions in secret prisons in the cities of Al-Raqqa and Aleppo.
SEE: Syria's Harrowing Torture: Summary Killings in Secret ISIS Detention Centers https://www.amnesty.org/en/news/syria-harrowing-torture-summary-killings-secret-isis-detention-centres-2013-12-19
In addition to torture, ISIS has been abducting moderate and secular figures within the opposition, including media figures who have dared to criticize ISIS, according to an Associated Press report.
SEE: Syria Militants Go After Opposition Activists http://news.yahoo.com/syria-militants-opposition-activists-181306585.html
Numerous civil society groups and individuals in Syria have spoken out against the oppression of ISIS, despite the threats to their lives. Among them are women activists such as Soad Nofal, a schoolteacher who peacefully protested in front of ISIS headquarters in Raqqa, and human rights lawyer Razan Zaitouneh, who before her abduction had spoken out critically of ISIS and targeted kidnappings.
SEE: One Woman Stands Alone Defying ISIS in Syria http://english.alarabiya.net/en/views/news/middle-east/2013/11/04/A-woman-stands-alone-defying-the-ISIS-in-Syria.html.
"SAC has consistently maintained that extremist groups in Syria run counter to the Syrian revolution's fundamental principles of freedom, dignity, democracy, and a respect for the value of human life. We maintain that extremism has no place in a current or future free Syria," said SAC Chairman Hussam Ayloush. "The disturbing criminal practices ISIS uses against civilians in Syria amount to crimes against humanity, and are not unlike the tactics used by the Assad regime to oppress and brutalize the Syrian people. By using arbitrary detention, torture, and killing as standard practice, ISIS is directly or indirectly supporting the Assad regime. We continue to hold the Assad regime responsible for the chaos and lawlessness that has ensued in Syria, which has allowed the flourishing of extremists groups, to the detriment of the future of our country."
About Syrian American Council
Founded in 2005 in Burr Ridge Illinois, the Syrian American Council is the largest Syrian-American community organization in the United States. It serves to amplify the voice of the Syrian-American Community. SAC includes members from all segments of Syrian society, and has 22 chapters nationwide with thousands of supporters. It is an organization devoted to community organizing, awareness-raising, youth empowerment, media outreach, advocacy, and support for Syrians seeking to build a free and democratic Syria.