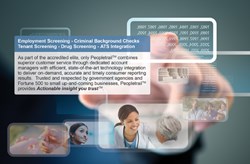 Peopletrail is NAPBS accredited and represents less than 2% of companies that carry this distinction. This along with a company's credibility, compliance, personalized care, and technology should be considered when selecting a service provider.
Salt Lake City, UT (PRWEB) December 27, 2013
Peopletrail, a respected long-time provider of employee background checks and drug screening services has been highly engaged over the last year in enhancing its internal structure and service offerings, and has positioned itself for significant growth. The company recently reviewed its business performance to ensure its current customers continue to receive exceptional professional and personalized care, and that new customers can clearly see the Peopletrail difference over the hundreds of other companies that, on some level, provide background checks and screening services.
Peopletrail evaluated a number of business performances, and shares the top areas that they have identified, along with their customers, as differentiating criteria namely, accreditation, credibility, compliance, personalized care, and technology.
Accreditation: The first question any company seeking a background check and screening service provider should be, "Are they NAPBS accredited?" This seal of approval shows a company's commitment to quality and excellence, accountability and self-regulation. Peopletrail is NAPBS accredited and represents less than 2% of companies that carry this distinction.
Credibility Score: This is an evaluation of trusted and accurate performance over time. Peopletrail's recent evaluation shows performance levels higher than the industry and much of the competition averages. Peopletrail continues to provide guaranteed timely turnaround with accuracy levels as some of the highest in the industry, and a 19.3% criminal hit rate. The company also has a well-seasoned executive team with individual averages of over 12 years each in the industry. Peopletrail also added to its team of experienced professionals this reporting period and holds monthly training with its staff to ensure the experience is shared and the entire team is kept current with all industry dynamics.
Compliance: Peopletrail enhances its commitment to be an educating partner and keep their clients compliant with all local, state, and federal regulations. In Q3, Peopletrail solidified its Compliance Department and filled the position of Chief Compliance Officer. Working with clients directly or through Peopletrail's dedicated Account Managers, the compliance department works daily on evaluating and communicating important compliance issues.
Human Touch: Personalized care remains at Peopletrail's core. The dedicated Account Managers are better equipped with improved client data management systems, improved account alignments, and ongoing education and training that help each dedicated Account Manager continue to provide the personalized care that each and every client deserves.
Technology: Peopletrail uses the most robust background screening solution technology in the industry. Over the months, there have been system improvements providing increased flexibility and security to the company's clients. The ease of integration into current HR systems remains to be a highly rated feature reported from the majority of Peopletrail clients.
Overall, the evaluation report shows that Peopletrail is meeting all internal expectations as it positions itself for significant growth with current and newly acquired clients. Additionally, the report shows a 99.5% client retention rate and a 100% completely satisfied rating from reporting current clients.
"We've been down a long and exciting journey. With every challenge, we saw a much stronger solution as we've focused tirelessly to make the Peopletrail experience the best in the industry. An experience providing accuracy, timely delivery, customized solutions and personalized care to each and every valued client," stated Wallace T. Davis, President and CEO. "We are thrilled with the outcome of our latest evaluation and look forward to continuing our efforts and welcoming new clients as they come to know the Peopletrail difference."
Customers can get to know the Peopletrail difference and schedule a complimentary consultation by visiting the company's new web site at Peopletrail.com or by calling the company directly at 866.223.6623
About Peopletrail
Peopletrail is a leading provider of custom employment, tenant and drug screening solutions, criminal background checks, & ATS integrations.
As part of the accredited elite, only Peopletrail combines superior customer service through dedicated Account Managers with efficient, state-of-the-art technology integration to deliver on-demand, accurate and timely consumer reporting results. Trusted and respected by government agencies and Fortune 500 to small up-and-coming businesses, Peopletrail provides actionable insight you trust.