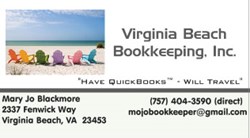 Hassle Free Bookkeeping
Virginia Beach, VA (PRWEB) January 30, 2014
Virginia Beach Bookkeeping launches and now business owners no longer need to struggle with tedious data entry and procrastination with financial record keeping. Virginia Beach Bookkeeping now offers on or off-site accurate and reliable bookkeeping service to business owners using the latest technology with Quickbooks™.
With over 25 years of bookkeeping experience, Virginia Beach Bookkeeping will ensure time is spent on what is important to growing the business and take care of the "little bookkeeping things" that may keep business owners awake at night.
We understand that the most unproductive task in a business owner's life is the bookkeeping and paperwork. Whether on or off-site bookkeeping, outsourcing or a virtual professional can do it faster and more accurately.
Virginia Beach Bookkeeping Quickbooks™ technology enables the business owner to:

Hire an experienced and affordable bookkeeper
Responsive to business owner needs 7 days a week – phone calls returned!
Initial set-up and training of Quickbooks™ for the business
Organize all financial information plus track sales and expenses
Provide payroll, payroll taxes, year-end payroll taxes, all required State and Federal forms
Sales and meals tax
Accounts receivable
Accounts payables
Bank reconciliation
Dropbox or other technology integration to provide business owner access service
Unofficial balance sheet and profit/loss statements
QuickBooks Online mobile app works with the iPhone, iPad, and Android phones and tablets
Liaison with a CPA to ensure all required paperwork and supporting documentation provided for quarterly and yearly reports
Professional and accurate bookkeeping ensures the business is performing, making money, and providing an overall snapshot at any time.
In summary, Virginia Beach Bookkeeping handles most bookkeeping tasks, including recording and categorizing expenses, recording income, reconciling checking accounts and working with a tax preparer. With Virginia Beach Bookkeeping and Quickbooks™ we will keep the business in "sync".
About: Virginia Beach Bookkeeping, Inc., is a women owned small business. Contact Virginia Beach Bookkeeping here and see how we can help – Remember – "Have Quickbooks™ Will Travel".