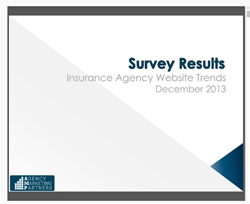 The major take-away from the survey is that many agencies are leaving a lot of opportunities on the table when it comes to the features and functionality they are providing on their websites
Columbus, Ohio (PRWEB) December 30, 2013
Today Agency Marketing Partners (AMP) announce the findings of their study of digital marketing strategies used by independent insurance agencies. Results show that although 88% of agencies have a website, many are not properly investing in it for maximum impact. Less than half of the websites are mobile ready and only one in three has a blog.
The major take-away from the survey is that many agencies are leaving a lot of opportunities on the table when it comes to the features and functionality that they are providing on their websites. Too many agencies still see their website as a cost rather than as a necessary investment in their future, given changing consumer shopping and servicing behavior.
This trend of neglecting websites is also seen in the percentage of agencies that say they have someone or a team that takes ownership for the site. Although 88% of the respondents to the survey said their agency has a website, 38% said they did not have a person or team taking ownership for their site.
The following were the key findings of the survey.

88% of the agencies who participated have a website.
Most agencies had their websites made by an online vendor.
On average agencies spend 1-5 % of their yearly budget on marketing.
62% have a person or team that takes ownership of the website.
Less than 50% of the websites are mobile ready.
Over 50% of agencies link to social media sites.
Only 33% of websites have a blog on their website.
Less than half of the websites provide in-depth insurance content.
38% speak to their community involvement.
The complete survey results can be accessed here.
The survey came about because the Agency Marketing Partners team thought it was important to generate more data on the features and functionality agencies were offering to consumers and clients on their websites. The hope is that the findings of the survey will help guide the marketing decisions of independent insurance agencies and enable them to spend their marketing budget more efficiently.
About Agency Marketing Partners - Agency Marketing Partners empowers independent insurance agencies to connect with potential customers and engage in deeper relationships with current customers. It helps agencies accomplish their digital marketing goals with website development and the execution of email marketing campaigns.