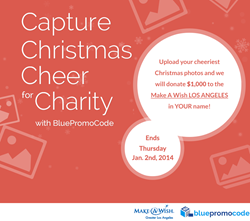 Los Angeles, CA (PRWEB) December 26, 2013
Christmas may be over for 2013 but the giving spirit continues well into next year with BluePromoCode. The Los Angeles-based online coupon site has announced the start of a week-long photo contest for charity. The "Capture Christmas Cheer for Charity" photo contest by BluePromoCode is being held from December 24th 2013 through January 2nd, 2014. A $1,000 donation to Make-A-Wish Los Angeles is the grand prize for the holiday photo contest.
The contest is being held on the BluePromoCode Facebook page. Fans of BluePromoCode can upload their best pictures from Christmas 2013 and then vote on their favorites. The photo that has the most votes when the contest ends on January 2nd, 2014 wins.
The winner of the BluePromoCode "Capture Christmas Cheer for Charity" photo contest will have $1,000 donated to Make-A-Wish Los Angeles in their name in January 2014. BluePromoCode will announce the winner of their Christmas photo contest on January 3rd, 2014 on their Facebook page and also on the BluePromoCode blog.
BluePromoCode chose to work with Make-A-Wish Los Angeles because of the organizations commitment to working directly with terminally ill patients. BluePromoCode recognizes the importance of funding for research and development, but chose Make-A-Wish Los Angeles as a better representation of the giving Christmas spirit.
About BluePromoCode.com
BluePromoCode, based in Los Angeles, is a leading coupon search engine used by millions of consumers to help them save the most money on their purchases. The website partners with 12,000 retailers to bring over 100,000 coupons to its users and its editors hand-check coupon codes to ensure the highest quality ones rise to the top. BluePromoCode also offers personalized emails so members can receive the best deals for the brands they love directly in their inbox. Learn more at bluepromocode.com.