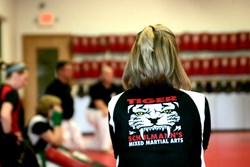 By February 15th, 60% of new gym members will stop attending. At Tiger Schulmann's Mixed Martial Arts, membership is retained at close to 100% because members thoroughly enjoy and stick with the training.
Elmwood Park, New Jersey (PRWEB) December 27, 2013
It's the time of year where millions of Americans make New Year's resolutions with the best of intentions. Many will focus on health-related issues like getting in shape and/or losing weight.
However, according to a recent study cited by Time Magazine: "60% of gym memberships go unused and attendance is usually back to normal by mid-February." Within a month and a half, over half the people who made well-intentioned resolutions, are back to their regular routines… no longer getting in shape. Year after year, the cycle continues. But the cycle can be broken according to Tiger Schulmann's.
"It's known in the fitness industry that most people who sign up for a fitness program are done with it within 2 months," says Alon Feder, Director of Marketing. "The clubs are counting on a large influx of people who have the best intentions to get in shape, but drop out soon after. Meanwhile, they continue paying for their memberships without using them."
Conversely, Tiger Schulmann's offers a kickboxing program where attendance remains consistent.
"People stick with Tiger Schulmann's," says Feder. "If you miss a class, your instructor is going to call to keep you motivated. It's also a more exciting workout. You're not repeating the same routine every day until you hit a plateau and get bored. Your workout is in the hands of a professional trainer with over a decade of experience. With each lesson you are learning new skills and perfecting the ones you learned. Most people quit the gym after a month and a half. At Tiger Schulmann's, they simply don't quit, they're seeing results and love the program."
Tiger Schulmann's will be offering a free trial class, a complimentary pair of training gloves, and a free month of membership for the New Year. The offer runs from January 1, 2014 until February 15th (free month with enrollment in regular program).
Tiger Schulmann's Mixed Martial Arts (TSMMA) is America's largest Martial Arts school, with 47 locations dotting New York, New Jersey, Connecticut, Pennsylvania and Tampa Florida. TSMMA was established in 1984 and has served over 200,000 students. The locations specialize in authentic Kickboxing, Kids Martial Arts and Mixed Martial Arts. The comprehensive fitness program emphasizes improved cardiovascular health, strength, speed, flexibility, endurance, proper diet and streetwise self defense. Other benefits include improved mental health, focus, motivation and well-being. Challenges members have overcome include: Weight issues, diabetes, musculoskeletal injuries, varying physical illnesses, smoking and more. Children have seen dramatic improvement scholastically, socially and better listening at home resulting from improved confidence, concentration, self-discipline and respect for self and others. Additional challenges for children have included bullying, ADHD and autism.
For additional information, visit http://www.tsk.com.