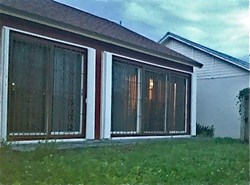 A French-style patio door has nearly floor-to-ceiling glass. Double that or triple it and you have a bright and cheerful room.
Miami, FL (PRWEB) December 27, 2013
Venetian Builders, Inc., Miami, has used French-style patio doors to solve multiple issues faced by all homeowners who expand their homes with aluminum sunrooms, said Chris Noe, Venetian president.
Venetian Builders designs and installs Florida rooms, patio covers and screen pool enclosures in all South Florida communities, including West Palm Beach, Fort Lauderdale, Boca Raton, Deerfield Beach, Hialeah, Wellington and the Keys.
"Think about the decisions regarding windows and doors that homeowners must make before having an aluminum sunroom addition built," Noe said.
"They've got to determine just how bright they want the room to be, and that usually determines how many and how big windows must be," Noe said. "Then there's the issue of access. Sometimes a single door just won't handle the traffic, especially if the room will be used for entertaining and guests will be wandering in and out."
Sometimes the best answer isn't a window, but a door, Noe says. "Or more correctly, several doors," Noe said.
Venetian has used French-style patio doors, in either sliding or hinged styles, to build glass walls on Florida rooms, Noe said.
"Double-wide and even triple-wide doors – sometimes even more than one set – have achieved several functions on a sun room," Noe said:
Ample light: "A French-style patio door has nearly floor-to-ceiling glass," Noe said. "Double that or triple it and you have a bright and cheerful room. Solid doors might as well be solid walls, in terms of light. They'll just make the room darker."
Enhanced views: "All that glass provides an almost uninterrupted view from inside the room," Noe said. "Glass doors can give you a good view of the garden, of guests or of children playing on a deck or in the yard." To reduce light, just add drapes or blinds that can be drawn shut, Noe said.
Increased access: "By adding an extra French-style patio door, you increase the number of entries and exits without diminishing the light that gets into the room," Noe said. "Extra access is good for entertaining, for carrying children's toys inside and out, and for toting pool accessories that you may not keep outdoors."
Style flexibility: "Patio doors come in so many styles that it would be hard not to find one that fits your home," Noe said. "They can be sliders or hinged, with individual panes or without, and different colors. Doors can be further styled with iron or aluminum grating that can be traditional, Mediterranean or contemporary. Pick what works with your architecture."
Strong ventilation: "Patio doors that open to screens really keep the breeze moving," Noe said. "Couple them with ceiling fans to maximize ventilation."
Venetian offers detailed, written, free estimates on solariums, patio covers and pool domes, as well as on aluminum pergolas, aluminum lattice for privacy and retractable awnings. In-home estimates also are free and include curbside access to the Venetian mobile showroom.
For more information, call 866-596-2427.