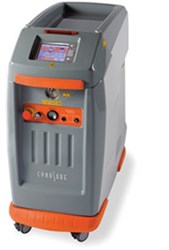 This is a game changer for many people that are concerned about loose skin.
Las Vegas, NV (PRWEB) December 28, 2013
Loose skin following liposuction is an issue for many individuals. In response to the demands of their patients, MyShape Lipo has added new technology to address the growing concern of loose skin following liposuction. The Smart Lipo MPX Laser is used in conjunction with liposuction to stimulate additional collagen growth for thicker more youthful skin.
"The Smart Lipo Laser is awesome," says Trevor Schmidt PA-C, the Liposuction Specialist at MyShape Lipo. "This is a game changer for many people that are concerned about loose skin. It may even replace the need for a Tummy Tuck is some individuals."
The Smart Lipo MPX uses a YAG Laser with two different wavelength: 1064 nm and 1320 nm. These versatile wavelength can be used separate or blended together for optimal results. The two wavelengths offer synergistic benefits including less blood loss, reduced fat content, faster recovery, and increase collagen production for tighter skin.
The FDA approved Smart Lipo Laser uses targeted energy to "zero in" on the fat to rupture the cell wall causing lipolysis or cell death of fat cells. It essentially "melts" the fat cell to reduce the fat content in the area treated. The fat is then swept away by the lymphatic system for natural cleansing of the fat from the body.
The laser will stimulate significant collagen growth for 6 months following the procedure. The additional collagen in the skin will lead to progressively thicker and tighter skin over the course of recovery. The increased skin tightening in many cases will reduce the need or desire for a tummy tuck.
The impact is already apparent at MyShape Lipo. The growing popularity of the Smart Lipo MPX is undeniable as many patients take advantage of this new technology. Not only are patients seeing tighter skin, but also quicker recoveries with the added benefit of less bruising following the liposuction procedure.
The Laser also has the SmartSense and ThermaGuide controls for safer, more reliable results. This added technology allows for the unit to monitor the temperature in the treated area. This ensures the proper temperature for optimal results and improved safety profile.
MyShape Lipo is a liposuction specialty clinic located in Las Vegas, NV. They cater to patients from around the globe that fly in for their competitive prices and profound experience of over 15,000 liposuction procedures. For a complimentary consultation by phone or in person, call 702-818-5476.