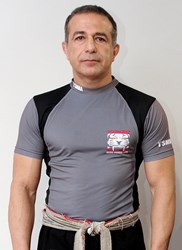 Tiger Schulmann's Mixed Martial Arts is the largest martial arts organization in the United States. As it celebrates its 30-year anniversary, over 200,000 active students have trained at a Tiger Schulmann's facility.
Elmwood Park, New Jersey (PRWEB) December 28, 2013
Thirty years ago, Master Tiger Schulmann was faced with a decision, to continue his reign as the undefeated American Lightweight Bare-Knuckle Knockdown Champion in Kyokushinkai Karate or begin instructing others in the martial arts he had come to love and master. Fighting in the adult divisions from the age of 16, then at 17 – capturing and holding the title for 6 consecutive years, Schulmann dominated the competitions -- fighting more seasoned opponents.
Thirty years later, Tiger Schulmann has seen over 200,000 active students pass through the doors of his well-known martial arts chain. Several dozen professional and amateur fighters have cut their teeth at a Tiger Schulmann's school – a style which is so effective, that a number of these professionals have entered the UFC.
Known as streetwise self defense for everyone, Tiger Schulmann's offers students the ability to develop self-defense skills on an instinctive levels. The locations provide a comprehensive curriculum which ensures basic self-defense knowledge which will last with the student for a lifetime.
Tiger Schulmann's Mixed Martial Arts (TSMMA) is America's largest Martial Arts school, with 47 locations dotting New York, New Jersey, Connecticut, Pennsylvania and Tampa Florida. TSMMA was established in 1984 and has served over 200,000 students. The locations specialize in authentic Kickboxing, Kids Martial Arts and Mixed Martial Arts. The comprehensive fitness program emphasizes improved cardiovascular health, strength, speed, flexibility, endurance, proper diet and streetwise self defense. Other benefits include improved mental health, focus, motivation and well-being. Challenges members have overcome include: Weight issues, diabetes, musculoskeletal injuries, varying physical illnesses, smoking and more. Children have seen dramatic improvement scholastically, socially and better listening at home resulting from improved confidence, concentration, self-discipline and respect for self and others. Additional challenges for children have included bullying, ADHD and autism.
For additional information visit: http://www.tsk.com.