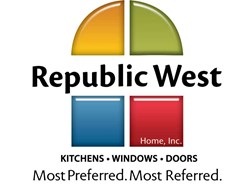 Offering our customers a triple pane upgrade at no cost really blends well with our philosophy of over delivering on product and service for our customers
Phoenix, AZ (PRWEB) December 30, 2013
In addition to being Phoenix's most decorated home improvement contractor, Republic West Home now offers new and existing customers the opportunity to upgrade to triple pane glass for free.
Far surpassing industry standards of dual pane glass, Republic West Home's quality replacement windows will keep cooling costs down in the summer while eliminating 99% of the sun's harmful UV rays. In addition, this new product features significant noise reduction, low maintenance and years of smooth operation.
A multiple time winner of the Contractor of the Year Award, as well several BBB Business Ethics Awards, Republic West Home is one of the most referred contractors in Maricopa County and has built a reputation for quality and convenience within the home improvement industry.
"Offering our customers a triple pane upgrade at no cost really blends well with our philosophy of over delivering on product and service for our customers," commented Linda Zimmerman, owner of Republic West Home.
About Republic West Home:
Republic West Home is a company that stands for quality, honesty and the best value. Our vision, in an industry often lacking ethics and reliability, is to deliver the best home improvement experience possible.
To deliver the best possible experience before, during and after the completion of your project, an extensive team of professionals was put in place: employees driven to make the home improvement experience a great one for you, our customers. The formula works and the pleasant experiences we create for our customers have paid off. In an industry where repeat business averages less than 5%, Republic West Home and our 15,000+ clients generate an amazing 50% of our business from previous customers and referrals.
For additional information, please call 480-423-9300 or visit http://www.republicwesthome.com.
Media contact:
Jason W. Jantzen
Phoenix Marketing Associates
http://www.PhoenixMarketingAssociates.com
602-282-0202