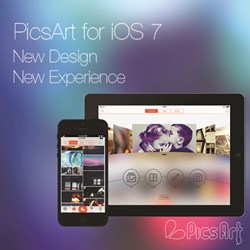 Mountain View, CA (PRWEB) December 30, 2013
The completely redesigned PicsArt for iOS7 has arrived. PicsArt's user-interface has been optimized for Apple fans for the holiday season. The new design is more comfortable for iPhone and iPad users and places the social network features at the very center of the application.
Launched in January 2013, PicsArt for iOS is quickly gaining momentum and catching up with the massive install base of the Android version. Combined, PicsArt has nearly 100 million installs between the two platforms. While the initial iOS design was the same as the Android one, the recent release is tailor made for iOS7, following the new operating system's user-interface guidelines of deference, clarity and depth.
The release comes at a key time for PicsArt, which, less than a year after its iOS launch, has already earned high user-ratings and a loyal following. Christmas is the time that sees the heaviest usage for photo-based apps in the US and Europe, PicsArt's largest markets, and this new release makes creating and sharing artwork more accessible and exciting than ever before.
The new design favors a pastel and white color palette, doing away with the original black background. Black-based interfaces suit for advanced professional editors, while this brighter and more vibrant makeover gives the app a softer, friendlier, and more welcoming visual feel. This is much more in line with PicsArt's inclusive strategy to create an app where not just pros but anyone can become a great artist.
At the core of the redesign is PicsArt's decision to put its social network at the center of the application. Users now have full access to the social network directly from the start-up screen, where they can explore featured photos, connect with other artists, and enter art contests. The original editing menu options remain just a touch away, accessible from anywhere and at any time using the central button in the new toolbar.
Finally, PicsArt has also streamlined access to its free and paid add-ons like stickers and fonts. All add-ons are now available for purchase or download within the editor, allowing users to continue creating and editing without the interruption of leaving to visit the Shop. This change is important for the company, which provides all of its editing features for free and relies instead on these small in-app purchases as a non-intrusive way for the company to monetize and maintain its rapid pace of development.