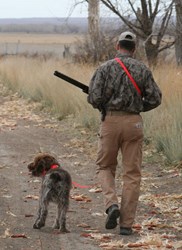 Subtly my dogs will tell me if they're out of gas and it's up to me to understand that.
Hudson, CO (PRWEB) January 09, 2014
Late season pheasant hunting can be tough on most upland hunting dogs, the pheasants have been pressured and are weary of anything and everything that's out of place. For a hunting dog to be a success in this environment, they have to be at the top of their game. Here are five things the folks at Dogs Unlimited have learned about their dogs and what they need to be ready for late season pheasant hunting.
1. Nutrition - It doesn't get any simpler than this. The quality of the food that goes into your hunting dog is directly related to what you get out of them in terms of a quality performance.
Says Alan O Davison, owner of Dogs Unlimited, "We absolutely believe that a quality dog food like Purina's Pro Plan, which is what we feed, is the basic foundation for a quality hunting dog. It gives them everything they need - quality proteins, fats, Omega-3 fatty acid and more - all in the right balance."
2. Conditioning - If your dog has been hunting all season, more than likely they're already in great condition; but if your schedule dictates that you and your gun dog can only get out once in awhile, then extra conditioning is a must for late season pheasant hunting.
"Keep exercising your hunting dog if they're not getting into the field on a regular basis. Roading your dog is a great way to do this but it may be as easy as taking them for a walk around the block. Whatever you can do to keep their cardiovascular system and muscles prepped and ready for the next day in the field," says Davison.
3. Feet - Your hunting dog's feet are an incredible part of their body and they need to be protected as much as possible. Blown pads, scrapes and lacerations can put a hunting dog out of commission for weeks and even months, protecting their feet is vital to late season hunting success.
"Depending upon the terrain we're hunting, using a pad toughener like Tuf-foot may be all we need; but if we're hunting in areas where we may find rocks, cactus or sand burrs then we definitely use dog boots. They protect our dog's feet and guarantee more day's in the field," says Alan O Davison
4. Body - A hunting dog's body takes its fair share of punishment throughout the season; your dog's chest and body gets hit with everything - grasses, corn stocks, downed branches and even barbed wire. During the season, these obstructions can cause minor cuts, bruising and even lacerations. Protecting your dogs body with a quality chest protector can help your hunting dog get to the end of the season.
5. Finally, the Mind - Often overlooked, your ability to "read" your dog is essential to a lasting hunting season. Hunting dogs are singular in vision, all they want to do is hunt. Being able to understand if your dog is able to hunt is essential to a lasting season.
Says Davison, "All our dog's want to do is hunt but if we've been putting a lot of time in the field, it's up to me to determine if getting them out of the dog box for one more field is the right thing to do. It might be better to let them rest and protect them from injury due to over exhaustion. Subtly my dogs will tell me if they're out of gas and it's up to me to understand that."
Take these best practices into account and you and your gun dog will enjoy late season pheasant hunting, you may even find that it's the best part of the season.