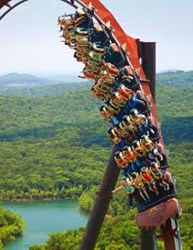 This is a great incentive for qualified couples who live within day drive distance to Branson.
Branson, MO. (PRWEB) December 27, 2013
Silver Dollar City Adult Season passes are becoming a big hit as "Thank You" gifts offered to qualified participants who agree to take a deluxe resort tour of approximately 90 minutes in Branson, Missouri and provide their opinion of the resort offerings upon completing the resort tour. "This is a great incentive for qualified couples who live within a day drive distance to Branson to come in and see a first class resort, offer their opinions and then pick up a really nice gift for their time and participation," stated Scott Rece, Director of Business Development for CheapFamilyVacationDeals.com. "With a retail value of about $160, the Silver Dollar City Season Passes are a great value when you consider that's what you get for about 90 minutes of your time," added Rece.
Silver Dollar City is one of the Midwest's top amusement parks and there's something for everyone from live entertainment, crafts, shopping, great food, old time architecture and a great lineup of thrilling rides for visitors of all ages. The city of Branson is itself one of the top tourist destinations in the Midwestern United States and over 80% of its visitors arrive by driving their own vehicles. In addition to presenting more live performances daily than Las Vegas, Branson also boast more theater seats than Broadway in New York City. Qualified couples visiting Branson for the day or longer to take in some of the local attractions and a show can easily take advantage of the resort tour offer by calling ahead to set up a resort tour time that fits into their schedule. About 90 minutes at the resort and they can be off to Silver Dollar City with two adult season passes that can be used all year long to enjoy everything that Silver Dollar City has to offer.
Rece concluded by saying that, "We're very proud of our Branson resort offerings and we are always working on creative ways to reward people who are willing to come in and experience what these leading resorts have to offer here in Branson and give us feedback on how they like to vacation here and anywhere else around the world." Resort tours are open to adult couples who are married or living together and single women who have an annual household income of at least $50,000. If interested, qualified participants can contact the tour reservations center between 8 a.m. and 5 p.m. Central time Monday through Friday at 1- 866-760-4605 to set up a resort tour time. Same day reservations may also be available.