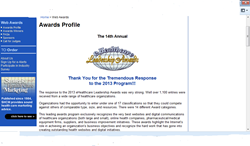 "We believe it's our flexibility to customize the programs to meet the needs of companies of different sizes and styles that helps us stand out." -Sam Dyer, Healthy Grid
Portland, Oregon (PRWEB) December 27, 2013
Healthy Grid won the platinum award for Best Intranet at the 2013 eHealthcare Leadership awards in November. Healthy Grid was selected for the white label edition of their Dental Optimizer program which helps health plans and associations connect their members to dentists..
The eHealthcare Leadership Awards are sponsored by Strategic Health Care Communications, a firm that provides guidance on business development, marketing, and internet strategies to the health care industry. Over 1,100 companies entered this year's competition which was categorized to allow equally-footed organizations to compete on common ground. 120 professionals from the health care and communications fields evaluated the entries in 14 different categories. A key component of the evaluations is each business's achievement of their own goals.
Healthy Grid's staff expressed gratitude for the acknowledgement. Their director of strategy Sam Dyer had this to say: "We're thrilled to be recognized for the updated DentalOptimizer.com website. While some of the web based tools found on the site, like the Cost Calculator, existed prior to the redesign, the bulk of the site is completely new. And because the site is optimized for use on just about every kind of mobile device, the redesign was a significant about of work." Sam added "We are very thankful to have received one of eHealthcare Leaderships highest awards".
The Dental Optimizer is a program that helps both patients and dentists. The public version of the Dental Optimizer primarily allows patients or people looking for dental help to ask a dentist about their concerns, find a dentist near them, and even get a regionally-adjusted estimate on dental care costs. The white labeled version features cavity and gum disease risk assessments, oral health profiles, a drug directory of oral health side effects and more. Dentists benefit from the Dental Optimizer because it connects them to new patients with no cost and very little effort. According to Dyer, the response from the basic site has been positive from both patients and dentists. "We're in launching our first white label next month and we can't wait to see what the response is like from other associations and carriers who get to see it."
The award was given for the white label edition of the Dental Optimizer where insurance companies and associations can purchase their own version of the program. Both versions enable them to customize the branding and operations of the site to meet their needs. The white label site typically exists behind a password- protected site, or by creating an account via a custom landing page offered as part of the white label. Members of an insurance plan, for example, would be able to find the most-appropriate in-network dentists and also maintain a profile with their own dental conditions and habits. The ask-a-dentist and cost-calculator features are also in the white label edition so patients are able to stay informed about their condition and options. Other features of the white label Dental Optimizer help members increase their dental knowledge, improve their habits, and communicate with their dentists to improve their care
Johns Hopkins University received an eHealthcare award in the same category for their Inside Hopkins program that allows on-campus users to access their system. Kaiser Permanente also won in the same category for their Inpatient Quality Model Management program. "We're very flattered to be in such accomplished company," said Dyer. "We believe it's our flexibility to customize the programs to meet the needs of companies of different sizes and styles that helps us stand out."
Those interested in using the Dental Optimizer can view it at http://www.dentaloptimizer.com.
Companies and organizations interested in a custom white label version can contact Sam Dyer at sam(at)healthygrid(dot)com.