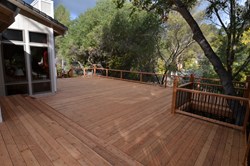 Well constructed hardwood decks can last up to 50 years and be a source of year-round satisfaction.
San Jose, CA (PRWEB) December 30, 2013
In response to the recent deck failure on the Chico State University Campus in October 2013, and other recent deck failures, M & M Builders, a San Jose Area decking contractor, has announced a new outdoor deck consultation service in 2014 for existing homeowners with outdoor decks and patios, who want to maintain their deck's structural integrity and prevent it from collapsing and causing harm.
"The deck inspection is a comprehensive review of all the components of an outdoor deck," said Mark von Dorhen, owner of M&M builders. "The consultation is a $500 value, plus for decks needing work, it includes an additional $250 in complimentary repairs that can be used for the existing deck or applied to a new hardwood or composite deck installation."
M &M Builders' new deck inspection service is timely. Right now, there is little direct oversight required when someone is hired to build an outdoor deck. Indeed, decks collapsing due to poor construction or poor maintenance is a huge problem throughout the United States. According to the National Association of Certified Home Inspectors (NACHI), there are over 2 million decks either built or replaced each year—and currently 45 million decks can be classified as being unsafe.
Outdoor decks are great for recreational purposes, outdoor celebrations and organizational meetings. "They increase indoor-outdoor living space and are exceptionally beautiful. But if a deck if not built to code, installed correctly or properly maintained," von Dohren warned, "it shouldn't be built at all. Many deck throughout the SF Bay Area are a disaster and should be torn down. Homeowners should be looking at their decks with a critical eye."
In 30 years as a deck builder, von Dohren has seen decks fail for many reasons. But the primary cause for deck collapse in the United States is a separation between the deck's ledger board and the home. Ledger-board failure often happens when nails have been used instead of thru bolts as fasteners.Nationwide, this so called deck-ledger board failure is the cause of 90% of deck collapses, according to National Association of Deck Builders (NADRA). Other reasons for deck collapse include deck joists being nailed to the outer girder; a post or beam fails due to wood rot; and foundation failure.
Preventing deck failure, von Dohren remarked, starts by creating a deck out of hardwood or a durable composite material. "Redwood decking and ipe decks are stunningly beautiful. They also happen to wear extremely well," remarked von Dohren. "Pressure treated woods and composite decking materials are also a wise choice, both of which are rot-resistant and need very little maintenance."
As for those with an existing deck, Von Dohren recommends inspecting it every season. Start by looking underneath it. Support posts and joists should be examined for signs of moisture that causes dry rot. The deck boards, railings and stairs and the flashing should also be inspected. Most importantly, check the fasteners, those all-important, thru-bolt attachments; make sure they are tight and not corroded. A well-built hardwood deck can last up to 50 years.
"Enjoy using your deck year round as a place for entertaining, relaxing and celebrating," von Dohren added. "But this winter, especially when things get wet and slippery, get your deck inspected to limit the risk of accidents."
Contact: M&M Builders
Mark(at)deckandarbor(dot)com
Ph: 408-315-5388
###