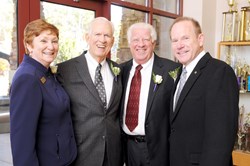 "I am proud to be a part of this school and to have my name on a building that will educate students for years to come" - Bob Hagan
Roswell, GA (PRWEB) December 27, 2013
On Tuesday, Nov. 19, the Cottage School completed the last phase of its building campaign and opened Hagan Hall, named in honor of Board President Bob Hagan.
This building has six classrooms and will also house the school's Athletic Wall of Fame. Founded in 1985, the Cottage School serves students in sixth through 12th grades with mild to moderate learning disabilities. It is located at 700 Grimes Bridge Road, Roswell.
According to Bob Hagan, "I have been so fortunate to be a part of The Cottage School's mission and dreams for the last 15 years and to watch the school grow. I am proud to be a part of this school and to have my name on a building that will educate students for years to come."
Bob is a beloved Georgian who has supported the Roswell community for over 30 years. He is a veteran of the US healthcare industry, a devoted philanthropist and a Rotarian.
For more information, visit online at http://www.cottageschool.org or contact Decca Media 877-471-1602 Ext. 2.