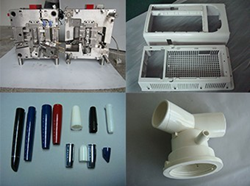 (PRWEB) December 30, 2013
Recently, Wuxi Glory Plastic, the China plastic factory that offers various kinds of plastic products, has started to manufacture new series of injection molds, including PLA vials, cutlery, cups and so on. When the production is completed, the company will update its website and add these new designs to its product catalog.
Along with the new kinds of injection molds, the company provides worldwide customers with many other high quality products like auto parts, silicone rubber parts, tablet bottles, EIFS PB washers, EIFS mechanical fasteners and more.
The officials of Wuxi Glory Plastic understand that customer satisfaction is of key importance to the development of a company. So, it puts a great emphasis on customer demands and expectations. With years of hard work, the company has won a great reputation in the international market. It is well-known as a superior, custom plastic provide in the world. Many buyers are its frequent callers and some even have become its long term partners.
As a matter of fact, the company is a fast-growing supplier in the molding industry. It pays attention to every aspect of blow molding, including machinery, polymer properties, auxiliary equipment, tooling, processing as well as fabricated part testing.
About Wuxi Glory Plastics
Wuxi Glory Plastics specializes in developing and manufacturing of custom molded plastic product by taking advantages of the relatively low labor costs in China. It has most experienced workers in China. If you're looking for product design, engineering, prototyping, and mass production, Glory plastics can always find a solution for you. For more about our products and services, please visit: http://www.plastics-molding.com.