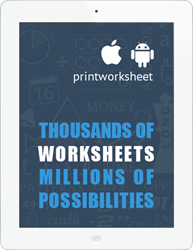 (PRWEB) December 27, 2013
Dev IT Solutions had announced the launch of this exciting Application back in August 2013 and it is now launched on Google Play Store for Android devices. Currently it has been launched only for Pre K.G. but the company also plans to soon launch it for K.G. as well. Currently the company is already developing this amazing educational mobile application for other platforms such as Blackberry and Windows and will be launched by the end of first quarter of 2014. Parents can now download this extraordinary worksheet application for Android devices from Google Play Store for free as a launch offer from the company.
Print Worksheet is an amazing and conceptual Application for iPad & Android devices which will help parents to generate Worksheets for kids to ensure the academic status of kids in terms of knowledge and understanding. Parents can now easily monitor the kid's progress by generating sample question papers for subjects like English, Math, Science, etc. from within the App. This application also provides a facility for parents to see the results after the kid has answered the question papers so that parents can understand the areas in which the kids needs to focus more for better results.
During a recent press conference, a senior spokesperson from the company said, "We are very pleased to announce that Print Worksheet which is an amazing Educational Mobile Application for iPad & Android devices is now available on iTunes App Store & Google Play Store respectively. Our aim in launching this application is to ease the burden of kid's education on parents. By generating millions of worksheets from a single application for subjects like English, Math, Science, etc., helps parents of young kids to swiftly monitor the kid's progress in terms of academics. For now this application is launched only for iPad & Android devices but the company will also launch this application for other platforms such as Blackberry & Windows as well."
For more information, visit http://www.devitsolutions.com/devitmobileapplication/.
Contact:
Dev IT Solutions Pvt. Ltd.
A-302, Shapth Hexa, Opp. High Court, S.G. Highway, Sola - 380060
Email: info(at)devitsolutions(dot)com
About Dev IT Solutions
Dev IT Solutions is one of the leading companies providing cutting-edge solutions for Mobile Application Development on various platforms. It has a dedicated team for Development of Mobile Applications i.e. iPhone Application Development, Android Application Development, Blackberry Application Development and Window Mobile Application Development.
iPhone, iPad are trademarks of Apple Inc., Android is trademarks of Google Inc., Blackberry is trademarks of RIM Inc., Windows is trademarks of Microsoft Inc.