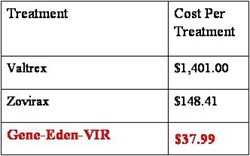 'We recommend that individuals make New Year's resolutions that improve their bank account. Choosing Gene-Eden-VIR, an affordable, clinically proven herpes remedy, is a great way to live up to that sort of resolution.' – Mike Evans, polyDNA
Rochester, NY (PRWEB) December 30, 2013
polyDNA recommends Gene-Eden-VIR as the most affordable means of treating a latent herpes infection. As the winter holidays pass, and people break the bank on presents, polyDNA is doing its part to make it easy for individuals to afford a natural remedy against the latent herpes virus.
This week, the media, government agencies, not-for-profits, schools, financial institutions and businesses of all kinds are putting up "After Christmas Sales" or are reminding people why their products or services are better than someone else's. To help customers who suffer from herpes infections, polyDNA compared the cost of Valtrex, Acyclovir (Zovirax), and Gene-Eden-VIR. The first two are FDA approved medications while the third is a natural, antiviral remedy. The first two target the active herpes virus, while the third was designed to target the latent virus.
"I spent so much money on my kids this Christmas! Somehow, the threat of a herpes outbreak kind of got pushed to the back of my mind. I know for sure I won't have the money to afford Valtrex over the next few months, and that's especially true since I lost my insurance too. Things just seem to get harder and harder!" – Tamicka R.
According to goodrx.com, the cost of a month's supply of Valtrex (90 pills), one of the most common anti-herpes medications, is $1401.00 for the brand name at the CVS Pharmacy. (1) The cost of the generic brand is only slightly less.
While Zovirax (Acyclovir) is significantly cheaper, this herpes medication still costs at least $148.41 for oral suspension. (2)
Gene-Eden-VIR is the only natural antiviral product that was tested according to FDA guidelines for safety and efficacy. A month's supply of Gene-Eden-VIR is $37.99. That's $110.42 cheaper than Zovirax, and well over $1,000 cheaper than Valtrex.
"We recommend that individuals make New Year's resolutions that improve their bank account. Choosing Gene-Eden-VIR, an affordable, clinically proven herpes remedy, is a great way to live up to that sort of resolution." – Mike Evans, polyDNA
In a post marketing clinical study published on August 12, 2013 in the peer reviewed medical journal Pharmacology & Pharmacy in a special edition on Advances in Antiviral Drugs, researchers showed that Gene-Eden-VIR is safe and effective (3). Additionally, up to 70% of those studied reported a decrease in viral symptoms, and users experienced an increase in overall health (3).
Each ingredient of Gene-Eden-VIR was chosen through a scientific approach. Scientists scanned thousands of scientific and medical papers published in various medical and scientific journals around the world to identify the safest, most effective natural ingredients that target the latent form of herpes. (3)
To learn more about Gene-Eden-VIR, visit http://www.gene-eden-kill-virus.com. All orders of Gene-Eden-VIR are completely confidential, and no information is shared or sold to any third party. Privacy is assured.
Reference:
(1) Goodrx.com - Prices for 90 tablets of Valtrex 1g (brand).
http://www.goodrx.com/valacyclovir#/?filter-location=&coords=&label=Valtrex&form=tablet&strength=1g&quantity=custom&qty-custom=90
(2) Goodrx.com - Prices for 200 ml of 200mg/5ml Zovirax oral suspension (brand).
http://www.goodrx.com/acyclovir#/?filter-location=&coords=&label=Zovirax&form=oral+suspension&strength=200mg&quantity=custom&qty-custom=30
(3) Gene-Eden-VIR Is Antiviral: Results of a Post Marketing
Clinical Study. Published on August 12, 2013.
http://gene-eden-kill-virus.com/PP_Gene-Eden-VIR-is-Antiviral.pdf
polyDNA is a biotechnology company that develops dietary supplements using the unique scientific method developed by Dr. Hanan Polansky, which is based on Computer Intuition.
In addition to his unique scientific method, Dr. Polansky published the highly acclaimed scientific discovery, called Microcompetition with Foreign DNA. The discovery explains how foreign DNA fragments, and specifically, DNA of latent viruses, cause most major diseases.
polyDNA developed Gene-Eden-VIR , an antiviral natural remedy that helps the immune system kill latent viruses.