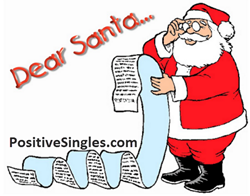 Los Angeles California (PRWEB) December 29, 2013
The number one website for people who have tested positive for sexually transmitted diseases, PositiveSingles.com,is releasing the results of its latest survey on Dec. 26. This time around, 5,000 of the members were randomly picked to participate in the survey. They were asked what their biggest wishes were for the Christmas season this year. The owners were interested in finding out what most of the members deepest wish was, whether it was material or something else.
The results of the Christmas wish survey showed that more than 55% of the members' biggest wish was to find love. This is an important finding because that shows the members are using the dating site for its intended purpose, which is to match people up so they can find love and happiness. A full 35% of those 5,000 members surveyed said their biggest wish this holiday season was to stay healthy and happy for the rest of their life. Health and happiness are something that people often take for granted until they are struck by an illness, so it's interesting to see that the members realize health is one of the keys to happiness. The other ten percent were scattered in what they wanted. Some wanted to to travel on a dream vacation and some members hoped to spend Christmas with their children. Other members said they wanted to live in a relatively affluent life where they didn't need to struggle all the time and worry about paying bills.
The Christmas wish survey helped PositiveSingles.com team find out the innermost thoughts and feelings about what its customers want and need. One staff of the PositiveSingles team said, "Everyone has his or her own wishes on Christmas. We are very happy to know the wishes of our customers. Although we may not be able to make all of our members wishes come true, we will try our best to help them find their match by providing more opportunities and a better service." It looks like most of the members are on their way to making their number one wish come true just by being a member of PositiveSingles.com. With so many members from around the world to choose from, they will surely find a match in no time.
About PositiveSingles.com
As the largest and most trusted online dating site for people living with Herpes, HPV, HIV / AIDS, Hepatitis, Chlamydia, Gonorrhea, Syphilis and other STDs, PositiveSingles.com is completely anonymous and cares about members' privacy more than other sites. You are not required to submit any information that you are not comfortable with on this site. Whatever you are looking for Herpes dating, HPV dating, HIV AIDS dating, or any other STD dating, PositiveSingles.com is the best place.