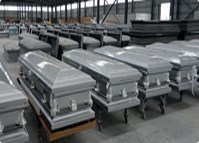 (PRWEB) December 29, 2013
Recently, MillionaireCasket.com, the famous casket company from China, has introduced its new collection of veneer oak wood caskets. According to the CEO of the company, MillionaireCasket.com has also announced its veneer oak wood casket for worldwide clients.
The CEO says, "Now, all veneer oak wood caskets from our company come are offered at discounted rates, up to 31% off. This new collection is our latest designs. All our products are offered with a quality warranty. Our aim is to offer the best help to those wants to buy high quality caskets online. All customers can feel free to contact us if there exists any related problem."
"Each of the new caskets is made of top quality wood. They all come with solid exterior and comfortable interior. I believe that they can sell well in the global market. Please note that the special offer will last for two weeks only. Those who are thinking of buying solid caskets online should contact us as soon as possible," he adds.
MillionaireCasket.com is one of the leaders in the casket industry. It has a huge selection of products for sale: wooden caskets, metal caskets, simple caskets, embroidery caskets and so on. All of them come with high quality because of the company's strict quality control policy.
About MillionaireCasket.com
MillionaireCasket.com is a leading casket company based in China. It focuses on the business of casket wholesale. It offers an exquisitely crafted line of all kinds of metal caskets, solid wood caskets, veneer caskets, cremation caskets, rental caskets, orthodox caskets, infant or over-sized caskets and European style coffins.
For more detailed information, readers can visit: http://www.millionairecasket.com/.