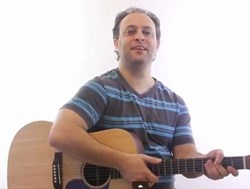 (PRWEB) December 27, 2013
In this guitar lesson, now available on YouTube.com, Claude Johnson teaches how to play Time of Your Life by Green Day.
In this part one of two guitar lessons, Claude teaches how to play Time of Your Life by Green Day. He starts the lesson by teaching a new chord that he has not covered in previous lessons, Cadd9. "It's not one of the basic chords, but it's not that hard to finger," says Johnson. He demonstrates the chord as: middle finger on the 3rd fret of the 5th string, first finger on the 2nd fret of the 4th string, and 3rd finger on the 3rd fret of the 2nd string, the 6th string is not strummed on this chord. Claude goes on to explain the theory behind this chord as that "a major chord is root, third, & fifth and that you simply add the 9th tone of the major scale, D, and you get Cadd9." Next Claude teaches the strumming pattern which he plays as strumming as opposed to the original arpeggiated way to make it easier for the novice guitarist to play. The pattern is down, down, up, up, down, up, counted as 1-2-&-&-4-&. More info on this can be found at GuitarControl.com.
American Punk Rock band Green Day was formed in 1987 in Berkeley, California and was part of California's Punk Scene along with bands like The Offspring and Rancid. The group has won five Grammys and has sold over 75 million albums world wide, making them one of the worlds best selling groups of all time.
Claude Johnson
Claude Johnson, a native of Philadelphia PA, began playing guitar in 1990 after being inspired by players like Jimi Hendrix, Eric Clapton, and Stevie Ray Vaughn. He is the creator of GuitarControl.com and has helped 1000's of people to learn to play the guitar with his critically acclaimed instructional DVD courses, all available at GuitarControl.com.
About GuitarControl.com
GuitarControl.com is the leader in modern guitar instruction. It's packed with resourses including articles, video lessons, and the best videos in the business for the beginner to the advanced guitar student taught by the best instructors out there. Weather you are into the blues, rock, jazz, metal, folk, or anything in between, they have you covered.