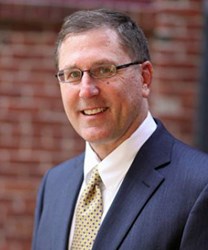 It's a great honor to be elected as associate vice-president of the Pennsylvania Builders Association.
Lancaster, PA (PRWEB) December 27, 2013
Lancaster, Pa., law firm Hartman Underhill & Brubaker, LLC (HUB) is pleased to announce that partner Mark Stanley of Manor Township, Lancaster County, Pa., has been elected associate vice president of the Pennsylvania Builders Association board of directors for 2014.
"It's a great honor to be elected as associate vice-president of the Pennsylvania Builders Association," said Stanley. "I have been associated with the industry for most of my legal career and am very interested in property rights, the land-use entitlement process, and affordable housing. This role will allow me to advance these, and other, critically important industry-wide priorities," he said.
Stanley's practice at HUB focuses on zoning, land use, and land development matters. He represents local, regional and national development clients in South Central Pennsylvania, including Lancaster, Lebanon, Dauphin, York and Berks Counties. Stanley earned his J.D. from University of Dayton in 1981, joined HUB that same year, became a partner in 1989, and was elected the firm's managing partner in 2010. Stanley serves on the board of directors of the Lancaster County Building Industry Association (BIA) as well as its governmental affairs committee, co-chairs a statewide task force on Pennsylvania Department of Transportation (PennDOT) issues with the Pennsylvania Building Association, serves as a board member of the Coalition for Smart Growth, serves on the Lancaster County Smart Growth Transportation Task Force, and serves on the Lancaster County Housing Affordability Task Force.
Stanley in 2013 was selected for the Super Lawyers list in the Land Use/Zoning category – one of only 23 attorneys in Pennsylvania to be selected in this category for 2013. He also was honored by the BIA of Lancaster County, Pennsylvania, receiving the organization's 2012 Presidential Award and the 2012 Associate of the Year Award. Stanley received the awards because of his exceptional commitment to the association during 2012 and his related work in state government affairs, including serving as co-chair of a statewide PennDOT task force. The task force was instrumental in facilitating significant changes to the PennDOT Access Release and Indemnification procedures and documentation.
"Mark's significant contributions to BIA have made the development process less complicated and less costly for land developers both locally and throughout the state," said Scott Provanzo, president BIA of Lancaster County for 2012 and vice president of Heartland Builders, Inc.
About the Pennsylvania Builders Association
Chartered in 1952, the Pennsylvania Builders Association is a nonprofit professional trade organization representing nearly 5,800 members from across the commonwealth. PBA members and their employees include builders, remodelers, material suppliers, subcontractors, consultants, lending institutions, utilities and others involved in the housing industry.
PBA serves its membership by providing proactive leadership on state regulatory and legislative issues and by offering products and services to its 38 local associations and chapters that enhance the effectiveness and professionalism of its members. PBA serves Pennsylvania communities and consumers through its steadfast efforts to protect homeownership rights and advocate for affordable housing options. PBA is affiliated with the National Association of Home Builders.
About Hartman Underhill & Brubaker
Hartman Underhill & Brubaker LLC (HUB) is a full-service, Lancaster, Pa.-based law firm offering comprehensive services throughout Central Pennsylvania in the areas of business, land use, school and municipal, and litigation. Its practice groups include Business Services; Financial Services; Employment, Pension, and Tax; Estate Planning, Succession Planning, and Elder Law; Real Estate, Zoning and Land Use; School and Municipal Law; Litigation; and Family Law.
Established in 1978, HUB has steadily expanded in size, expertise, and depth of experience while enhancing its position as one of the most well-respected and well-positioned law firms in Central Pennsylvania. The firm has offices in Downtown Lancaster and Ephrata, Pa.
HUB's team of 18 attorneys includes partners Michael W. Babic, Thomas W. Bergen, Joshua D. Cohen, Robert M. Frankhouser, Jr., Kevin M. French, Alexander Henderson, III, William C. McCarty, Jeffrey P. Ouellet, Kim R. Smith, Mark Stanley (managing partner), and William J. Zee III; associates Joseph B. Allen, Brandon S. Harter, Kaitlin R. McGinnis, and David M. Walker; and attorneys of counsel Marylou Barton, Mark L. James, and Christopher S. Underhill.
For more information, visit http://www.HUBlaw.com.