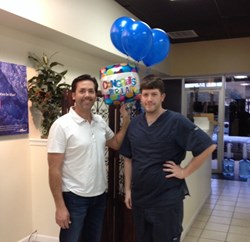 'He is absolutely deserving of this honor and a huge asset to the ANY LAB TEST NOW family.' -Clarissa Bradstock, acting CEO of ANY LAB TEST NOW
Alpharetta, Ga. (PRWEB) January 03, 2014
ANY LAB TEST NOW®, the first direct access lab testing services business with more than 150 franchise locations across the U.S., honors Brian Bray as its 2013 Medical Assistant of the Year. Bray, a resident of Austin, Tex., earned the award thanks to his positive impact on customer experience as well as bottom-line revenues. He was nominated for this award by Sean and Sarah Toney, owners of the Austin ANY LAB TEST NOW location where he works.
"Brian consistently goes above and beyond to provide exceptional customer service to every person who walks in his location's doors," said Clarissa Bradstock, acting CEO of ANY LAB TEST NOW. "Sean and Sarah have both raved about his exceptional skill set and thorough knowledge of all our products and services. He is absolutely deserving of this honor and a huge asset to the ANY LAB TEST NOW family."
Bray has worked for ANY LAB TEST NOW in Austin for two years now. During that time he has displayed a natural talent for his job, sharing the benefits of custom lab panels, allergy tests and specialty tests with a focus on their advantages for the patient. He also has an exceptional facility for customer service, with a very conversational and patient personality that makes customer interaction exceptionally easy. With his combination of skills and passion for the business, he has been able to grow revenue organically every day while still keeping the best interests of every patient at the top of his priorities.
To learn more about ANY LAB TEST NOW, visit http://www.anylabtestnow.com.
About ANY LAB TEST NOW®
Founded in 1992, ANY LAB TEST NOW is a franchise direct access lab testing company that provides thousands of standard lab tests to consumers and businesses in a professional, convenient and cost-effective, transparent manner. With over 150 facilities around the U.S., ANY LAB TEST NOW offers a variety of affordable and confidential lab tests to consumers and businesses including general health and wellness panels, pregnancy, HIV/STD, drug, paternity and many more tests. To learn more about ANY LAB TEST NOW, visit our website or like us on Facebook.