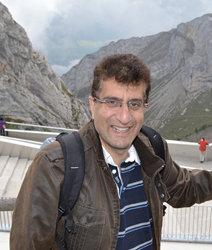 A quality education in dental medicine is the foundation and the future of our profession.
(PRWEB) December 29, 2013
Dr. Tariq Drabu was speaking recently about his concerns regarding proposed cuts to the number of dental student places that will be available in the future. He was expressing concern about the recent announcement that undergraduate dental student places in British educational institutions could be reduced.
Dr. Tariq Drabu is a renowned and highly respected dentist and the owner of the leading Langley Dental Practice which is based in Middleton, Manchester. He has also been a proud and dedicated teacher and mentor to postgraduate students of dentistry for over a decade. For nearly thirty years, he has demonstrated his commitment to the dental professional by sharing his knowledge and providing guidance and high quality education to young dental students. The news that the number of new dental student places could be reduced concerned him greatly.
Dr. Tariq Drabu was speaking after the recent publication of an article in the Denistry.co.uk website. The article states that a recent study by Health Education England suggests that there is an over-supply of dentists in the UK. The article can be read here.
Dr. Tariq Drabu believes high quality education for young dentists is paramount. And while he understands the pressures educational institutes are under, he believes cutting the number of qualified dentists admitted per year, could damage patient care, and significantly set-back the progress of dental medicine in Britain.
Referring to the article, Dr. Tariq Drabu said, "The study suggested that there could be an over-supply of dentists by as much as 4000 by 2040. I think caution should be exercised and more evaluation undertaken, before any significant cuts are made in response to this study. Our fine British universities attract young students from all over the world. By cutting places, we could lose our own students if they have to travel abroad to study, as well as the revenue from international students. Back in 1990 a decision was made to close a number of dental schools due to perceived problems of future oversupply - a decision that catastrophically backfired within a decade when NHS patients were seen queuing round the block to sign up at practices up and down the country."
Dr. Tariq Drabu went on to say, "The British Dental Association have warned that this proposal should be considered extremely carefully, and I agree, especially given past predictions. Care must be taken that patient care is not harmed. In addition, it would be sad if such a move were to diminish British Dental medicine, which still enjoys a leading position in the world."
He closed by saying, "As the article rightly points out, as recently as 2004 there were concerns that we would have a shortage of young dentists becoming qualified - which I am sure was a direct result of the closures of the 1990s, and as a result, additional places were added. Now the opposite is being suggested! I believe that student numbers, and the workforce within the dental profession, should be more closely monitored to ensure we have a steady, healthy and appropriate flow of newly qualified dentists entering the profession."
Dr. Tariq Drabu has worked tirelessly for many decades to share his knowledge and expertise with young students. As a highly respected teacher and mentor to the next generation of dentists, he understands the importance of offering sufficient places to students. He said, "A quality education in dental medicine is the foundation and the future of our profession."
About Dr. Tariq Drabu
Dr. Tariq Drabu is a highly experienced and well known Manchester dentist and GDC registrant. He is accredited as a Specialist in Oral Surgery by the General Dental Council. Dr. Tariq Drabu practices at his Langley Dental Practice in Manchester. Dr. Drabu is a leading name in dentistry, with 25 years' experience in both general practice and hospital dentistry. Dr. Tariq Drabu is also the Clinical Lead Dentist for the Oral Surgery Clinical Assessment and Treatment Services at NHS Heywood, Middleton and Rochdale. He is a specialist staff member at The UCLan Dental Clinic in Preston.