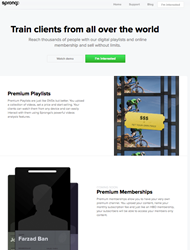 How cool is it to watch my son the same day when I am half way across the world?
Boulder, CO (PRWEB) December 30, 2013
Sports are back in the limelight now that Winter Olympics are around the corner. Elite athletes all around the world are giving interviews and looking great with their clothes and gear adorned with sponsor logos top to bottom.
What gets lost in this glitzy picture are the sacrifices it took to get to the top.
Making it to the Olympics is a culmination of years of extensive training. It requires exceptional coaching and the use of state of the art equipment and technology. Athletes may sweat a lot on the field, but so do their family and friends who help finance their dreams. Sponsors only join the journey in its last steps. Until then it truly takes a village to raise an Olympian, and it costs the village a fortune.
We've built Sprongo.com to change that. Sprongo allows its users to upload, share and analyze their videos free of charge. Over a million videos have been uploaded and analyzed on Sprongo so far. Teams, coaches and athletes get free access to state of the art video analysis tools, which used to cost thousands and therefore were only reserved for the most elite athletes.
Recently, We've taken things to next level. Now we allow elite users to monetize their expertise. They can sell collections of videos with our "Premium Playlists" feature or charge their subscribers a monthly subscription fee via our "Premium Team Pages" feature. And users who want to access this world-class expertise can access it at affordable prices.
Individuals like Olympic athletes Erik Schlopy & Doug Lewis; as well as organizations like SwimLabs were among the early testers of our premium features and the results are promising.
No matter what sport or level, a beginner swimmer or champion skier, Sprongo aims to help athletes achieve their goals. They still have to work really hard, but with Sprongo can help minimize the financial burden.
So why wait? Be a part of Sprongo today and get all the help you need on your Olympic journey!