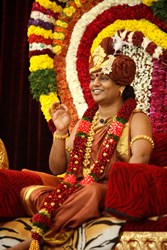 "Authentically listeninig to yourself and others is Shravana.Talking into the Listening of yourself is Manana.Talking into the Listening of others is Nidhidyasana." - His Holiness Paramahamsa Nithyananda
Bidadi, India (PRWEB) December 27, 2013
On the auspicious occasion of the Avatar Day celebrations of living incarnation His Holiness Paramahamsa Nithyananda, there was a grand celebration at the Bidadi ashram as well as all Nithyananda Vedic Hindu temples worldwide.
Paramahamsa Nithyananda's message to the world on this day was 'Be a catalyst, sincere cause for everyone to realize their reality'. When you are a catalyst sincerely to cause others' reality, all of them will be catalyst to cause your reality to happen. The Whole itself will become cause for you to cause your reality.' Paramahamsa Nithyananda went on to tell that exploiting people to cause one's reality is bondage, whereas being the catalyst to make others realize their reality is liberation. He explained that to do this, one needs to listen authentically to oneself and others, and speak into the listening of oneself and others. He reiterated that one should be a cause for others to realize their reality because being a cause for others is one's own being's cause. He went on to dedicate this year to living this great truth.
Thousands of people gathered at the Bidadi ashram to witness the celebrations which included a grand sannyas initiation for 40 people declaring for sannyas after undergoing the sannyas training.
Spiritual heads from across the nation were present to grace the occasion of Avatar day celebrations including Param Poojya Acharya Mahamandaleshwar Sri 1008 Swami Shukdevanandji Maharaj, Sri Ni Pa Shivanubhava Charumurti Dr. Sri Shantiveera Mahaswamiji of Kolada Matha, Kanchipuram Meykandarpeedam 232nd Peethadhipati Srilasri Thiruvambaladesika Gnanaprakashaswamigal of Thondaimandala Adheenam and Srimad Atmanandji Maharaj – President of Sharada Niketan Educational Institutions, and Sri Shivananda Pulipani Swamigal of Palani Adheenam, among many others.
Paramahamsa Nithyananda also released various projects, products and services, including new websites on sannyas, gurukul, spiritual products store, as well as various books and magazine on living spirituality. Nithyananda University which is established in USA and France also conferred honorary doctorates for lifetime contributions in their respective fields – to Atal Acharya Mahamandaleshwar Sri 1008 Swami Shukdevanand Puri Maharaj for his lifetime service to Hinduism, Swami Atmananda ji Maharaj for his contribution in the field of education, and to world-renowned singer 'Bombay' Krishnamurthy for excellence in Vedic music.
All the devotees, disciples and visitors were treated to sattvic meals, Rudrabhishekam at the 21 feet Ananda Linga, worship and arati and abhishekam at the temple, and individual blessings from Paramahamsa Nithyananda.
ABOUT HIS HOLINESS PARAMAHAMSA NITHYANANDA:
His Holiness Paramahamsa Nithyananda, recognized today as a clear, legitimate, apolitical voice of integrated Sanatana Hindu Dharma, is revered as a living incarnation of superconsciousness by millions worldwide.
He is a Maha Mandaleshwar (spiritual head) of Mahanirvani Peeth, the most ancient apex body of Hinduism, and the 293rd pontiff of Madurai Aadheenam, the oldest Hindu establishment. He is the most watched spiritual teacher on YouTube with over 16 million views, and the author of more than 200 books published in over 20 languages. His talks are watched live every day on http://www.Nithyananda.TV, as well as on multiple international television channels and via video conferencing.
Paramahamsa Nithyananda is also a powerful spiritual healer and adept who has successfully demystified yogic sciences like kundalini awakening, levitation, materialization, and going beyond food.
Paramahamsa Nithyananda is a powerful advocate of human rights, especially the right to religious freedom. He envisions a global civilization built on the ancient Vedic principles of religious harmony and personal freedom.