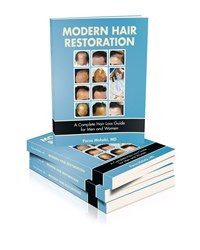 "Social media is becoming a new way of sharing information in our lives..." - Parsa Mohebi, MD
Los Angeles, CA (PRWEB) December 27, 2013
Doctor Parsa Mohebi, Los Angeles hair transplant surgeon, introduced his newest book "Modern Hair Restoration: A Complete Hair Loss Guide for Men and Women" at the beginning of December. The book introduces the newest techniques that are used in hair restoration, as well as gives information about all techniques available, treatment options, and the causes of hair loss in both men and women.
"Modern Hair Restoration" guides you to have a more beneficial consultation with your doctor by discussing the essentials of a proper hair loss evaluation and the items that are critical in the history of a hair loss patient. Medical options for hair loss treatment and complementary procedures that can be used in addition to hair restoration are discussed in detail.
Modern Hair Restoration also reviews what to expect before and after a hair transplant procedure, including a guide through what they can expect in the first few days, weeks, and throughout the first few months after a hair restoration. Complications and side effects are explained as well. The book reviews all major circumstances that can be anticipated with hair restoration and at what time. Finally, Modern Hair Restoration, discusses the newest advancements as well as what is to be expected in the future for this field. This unique book encompasses every aspect of hair restoration, providing the most up-to-date modern techniques and treatment options of hair restoration.
What inspired Dr. Mohebi to write this book is his belief that everyone should have access to the most updated information regarding hair restoration, "I felt there was a need to provide a comprehensive guideline on hair restoration that can be referenced freely, which is why I am offering free copies to all of my past, present, and future patients."
Social media is now the primary way to share knowledge and information. It has also played an important role in broadcasting Dr. Parsa Mohebi's new book. A prime example for this is Hair Transplant Network. Hair Transplant Network, a reputable hair transplant website, which is visited by many hair loss patients seeking advice and proficient hair transplant surgeons, has recently promoted Dr. Parsa Mohebi's book by announcing it on their popular website. Dr. Mohebi states, "Social media is becoming a new way of sharing information in our lives and it is interesting for me to be able to view the opinions of my patients and the readers of the book, online. It is also fascinating to observe how social media has reacted to the publishing of my book and I am happy to see websites such as Hair Transplant Network promoting it with the discussion of different aspects."
About US Hair Restoration:
US Hair Restoration was established in 2008 by Dr. Parsa Mohebi. As chairman of FUE Research committee and creator of the several methods and techniques in modern hair restoration, Dr. Mohebi and his staff provide the most advanced techniques in hair restoration. The overall goal at US Hair Restoration is to restore patient's self-esteem through the use of quality hair restorations.