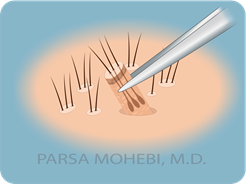 FUE hair transplantation can now be performed in mega sessions of up to and over 2,500 follicular units per session in selected patients.
Los Angeles, CA (PRWEB) December 27, 2013
Follicular Unit Extraction also known as FUE, has become a great alternative for those who wish to receive a hair transplant without its typical complications such as linear scarring on the scalp. This procedure is done by individually and directly extracting follicular units from the patient donor area. During the FUE process the follicular units have to be extracted meticulously due to the added risk of transection. This limits the total number of follicular units that can be extracted during each session. Recent advancements in FUE transplantation have made it easy for a higher number of follicular units to be extracted and transplanted successfully.
In the last few years FUE hair transplant surgeons were performing the FUE procedure yielding a maximum of 1500 grafts per session. FUE procedures have doubled in the number of follicular unit grafts that can be transplanted in Doctor Mohebi's Centers. This is due to the new methods that are being used and the improvements in the skillset of the surgical team. Works done by Doctor Mohebi and his colleagues have recently proved that FUE mega sessions can be performed effectively within one session. FUE hair transplantation can now be performed in mega sessions of up to and over 2,500 follicular units per session in selected patients. Modifications being done to this procedure have improved the amount of viable grafts that can be transplanted in one day. Dr. Mohebi and his team have adapted new techniques in order to maintain the quality and viability of the FUE grafts, "In order to be more efficient, we have increased the survival rate of the grafts by changing the order of the steps of the procedure. This decreases the amount of time that the grafts stay out of body, thus keeping them at optimum viability."
Mega Session hair transplants offer patients, with advanced stages of hair loss, the opportunity to have a complete hair restoration performed in one day without the hassle of having to come back for future sessions. It also offers patients the opportunity to have a hair restoration without any pain or discomfort after the procedure and without a linear scar on the back of the scalp. By improving FUE techniques, hair restoration is expanding the population that can benefit from it. These advancements are just the beginning to future successes for the field of hair restoration.
About US Hair Restoration:
US Hair Restoration was established in 2008 by Dr. Parsa Mohebi. As chairman of FUE Research committee and creator of the several methods and techniques in modern hair restoration, Dr. Mohebi and his staff provide the most advanced techniques in hair restoration. The overall goal at US Hair Restoration is to restore patient's self-esteem through the use of quality hair restoration.